Stakeholders

>

COVID-19 updates

The Jobseeker and Jobkeeper payments explained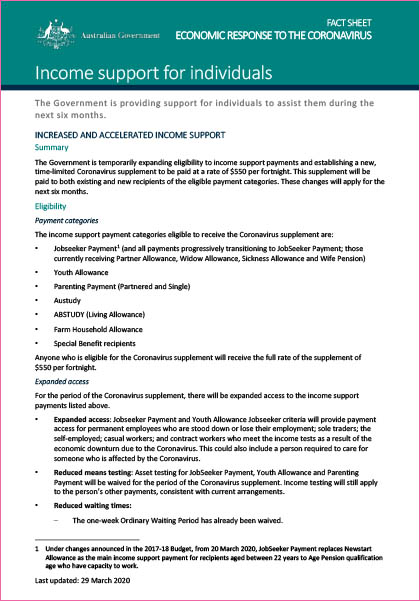 ---
Look after yourself and your community
During these uncertain times, it's especially important that we look out for one another to keep our communities safe. Every one of us are responsible and have a role to play to achieve this.
If you feel like you or someone in your neighbourhood needs some extra help, the following services are still available to support you. The government is working closely with community services and the police to ensure that support services remain open during this challenging time and our neighbourhoods are kept safe.
Due to COVID-19 some community services cannot meet with you in person, but you can still access them via the internet, the phone, text and messenger services. You can also access these services in this way if you are unable to leave your home because you are looking after others or you are feeling unwell.
You can also contact your Mission Australia Housing Officer by phone or email if you wish to discuss anything on 1800 269 672 or This email address is being protected from spambots. You need JavaScript enabled to view it.
If you or someone you know needs help now, call one of the following services:
Emergency services 000
Crime Stoppers 1800 333 000, https://nsw.crimestoppers.com.au (report information about a crime in strict confidence)
Non urgent police assistance and general enquiries 131 444
Interpreter service Police Line 13 14 50
Domestic Violence Line 1800 656 463
Child Protection Helpline 13 2111
Kids Helpline 1800 551 800
Lifeline 13 1114
Link2home Homelessness 1800 152 152
Disaster Welfare Services 1800 018 444
NSW Elder Abuse Helpline 1800 628 221
NSW Victims Access Line 1800 633 063
TAS Family Violence Counselling Support Service 1800 608 122, https://familyviolencelaw.gov.au/get-help/
If you are feeling unwell but don't want to or are unable to leave home a number of doctors are now delivering health services through Telehealth using telephone, video conferencing or other communication technologies. Please call your doctor to see if this is a service they are offering and always call 000 in an emergency.
Please remember that the Easter long week end includes 2 Public Holidays; tomorrow (10 April) and Monday (13 April). All Mission Australia Housing staff will be on leave over this time. Please call the 24/7 Hotline on 1800 269 672 if you have any urgent or emergency maintenance requests.
Wishing you all a happy, healthy and safe Easter!
---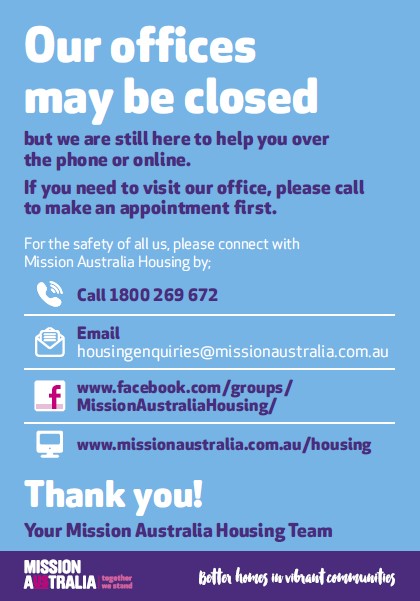 We have changed the way we do a number of things during COVID-19
This situation is new for all of us and it is changing daily. We will however continue to do our best to support you and your communities while providing tenancy and property services.  
We will aim to provide regular updates to make sure you have the most current information. Given, the delays we are experiencing with our postage service, we will send communication out mostly through SMS, email and on our Facebook page (Mission Australia Housing).  
If you have recently changed your mobile number or email address, or haven't yet heard from us by SMS or email it would be a good idea to contact us on 1800 269 672 to update your details.  
Changes to how we do things
Offices
Our offices are now closed to the public, except via appointment. If you need to talk to someone at MAH please call first on 1800 269 672 or email at This email address is being protected from spambots. You need JavaScript enabled to view it..
Rent Review
Normally, we carry out two household income reviews each year, usually in April and September. We have decided given the current circumstances that we will not be doing the April rent review and the next review will be completed in September.
If your household income has decreased due to a job loss or reduction in work hours, please contact the office on 1800 269 672 to request a rent review so that your rent can be re-assessed. You will need to provide evidence of your income change.
Additional Centrelink Payments
Some of you may be eligible for additional one off or short term payments from Centrelink and these will not be counted in your assessable household income. If these payments are made permanent, we might review this. These payments are made for eligible people because of the Coronavirus.
Please contact Centrelink if you have any questions about these payments. There is information on the Centrelink website at: https://www.servicesaustralia.gov.au/covid19
Paying Your Rent
You still need to continue paying rent under the Residential Tenancies Act and staff will continue to manage rent payments and arrears throughout this time. In saying that, we are well aware of the impacts that COVID-19 may have on some of you and your future incomes. We ask that you please contact us as soon as possible if you think you will have any difficulty paying your rent.
Property Inspections
All non-essential property inspections will be postponed for now. Essential inspections like those required for the health and safety of our tenants and properties (e.g. smoke alarm inspections) will still continue. To ensure the safety of staff, tenants and contractors we will call you first to make sure it is safe to do the inspection. If you are unwell, or in isolation you need to let us know so that we can postpone the visit.
Repairs and maintenance
Only emergency and urgent repairs and maintenance will be carried out at our properties until further notice. It is important to remember that we may experience delays with contractors and suppliers due to the impacts of COVID-19. Please continue to report emergency and urgent maintenance requests as you would normally do.
All common area cleaning and gardening will continue and we are looking at increasing communal area cleaning where we can.
Access to support and essential services
We know it can be hard for individuals and families experiencing isolation right now and along with grocery shortages and closures of some services, many people are struggling. If you are in need of additional support or have concerns about your ability to access essential services, the team at MAH may be able to help and connect you to services in your community. Our Community Development Team and Support Teams are all still working and their focus is on making sure you are all are ok during these challenging times. Please call us on 1800 269 672 or email This email address is being protected from spambots. You need JavaScript enabled to view it. and someone will get in touch with you.
Advice on how to take care of your own health
The Australian Government Department of Health website remains the best place for the most up to date information on COVID-19 and this can be accessed at: https://www.health.gov.au/health-topics/novel-coronavirus-2019-ncov  
You can also call HealthDirect on 1800 022 222.  
If you are feeling seriously unwell and it is an emergency, call 000 immediately.  
Please let us know if you need help translating this information and we will arrange an interpreter service for you.  
Lets all continue to look out for each other and stay connected however we can during this difficult time.  
Take care!  
---
It's Neighbour Day this Sunday!
Neighbour Day is celebrated on the last Sunday in March every year with the aim of fostering strong personal connections that last the whole year-round. Every day can be neighbour day and what better time than now to make sure your neighbours are ok! The theme for Neighbour Day 2020 is Social Connection. We can still do this while remaining safe and practicing social distancing. Download this flyer for some ideas on how.
Fact sheets on how to stop the spread
Help stop the spread of COVID-19. Download fact sheets here if you speak another language other than English.
Do you need to find a payphone in your area?
Click on this link to find the nearest one to you.
---
Mission Australia Housing and COVID-19
You and COVID-19 Coronavirus
March 2020
Mission Australia Housing is doing everything we can to help protect staff and tenants from COVID-19.Mission Australia has established an Emergency Management Committee to provide an organisational response to COVID-19 that will ensure our staff and clients are supported during this time. We also have local plans in place for how we manage and support our staff and tenants in each area.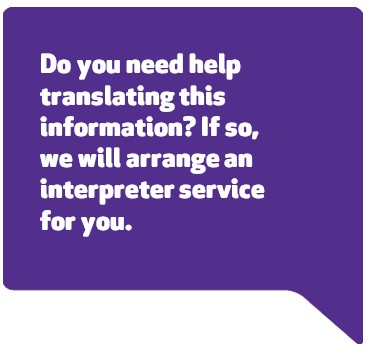 What we need to know?
Have you or any member of your household visited or been in contact with anyone who has visited the following countries in the last 14 days:
Mainland China
Iran
Italy
Republic of Korea
Have you or any member of your household been advised by a health professional or organisation to self-isolate or been in contact with anyone who has been in self-isolation recently?
Do you or any member of your household currently have cold or flu like symptoms?
If your answer is 'Yes' to any of the above questions, then:
What you need to do
Please seek medical advice if you have not already done so. Please speak to medical professionals to determine if you need to self-isolate.
Contact your local GP or call the Coronavirus Health Information Line on 1800 020 080 (24/7 hotline) for further information.
For additional support services, if in operation, see table below.
Other things to think about
Do you have what you need to get through 14 days of self-isolation? Do you have any pre-existing health conditions, respiratory issues, mobility and disability issues, mental health and social isolation risks?
Do you have a good supply of medicines, or special equipment, that you will need?
Do you have adequate food supplies, and do you need help getting some?
Do you have family or friends that can help you?
Do you need to contact disability, aged or in-home support coordinators to get further assistance?
What other support might you need? Refer to list below.
Please let us know if you need help with any of the above.
Contact with you
If you are experiencing illness or need to self-isolate, our staff and contractors cannot attend the property or meet with you in person.
If you are ill or need to self-isolate you are not permitted into Mission Australia Housing offices for the next 14 days. After 14 days you will need to contact the office first to confirm it is ok to attend.
We will be putting an alert on the tenancy system advising staff not to visit your property for at least 14 days from the date you told us of your illness or self-isolation.
We will be screening visitors where we can and our contractors for the same information. If they answer yes to any of these questions, they will not be allowed to enter our building.
If you are due to have a visit from Mission Australia Housing staff and you or a household member feel unwell, or you are self-isolating or under quarantine, we will postpone the visit.
If our Housing staff are not well or believe they may have been exposed to COVID-19, they will not visit you and will make other arrangements as soon as possible.
You can also find information about your tenancy on this website.
We need to postpone community events and tenant gatherings that have been planned for your area. Contact your Community Development Officer for details or to discuss on 1800 269 672.
We encourage you to check on your neighbour's wellbeing but when doing so, please use social distancing to avoid any potential spread of virus. This may include using the telephone, email or SMS to check they are ok.
Our contractors
Our contractors are not permitted to attend our offices or properties if they are displaying cold/flu symptoms.
Our contractors will be informed if we become aware of a tenant who could be infected with coronavirus who also requires emergency repairs.
Any non-essential planned maintenance that hasn't started will be postponed until it is ok to re-enter properties.

We will consider whether it is appropriate to action any work order request based on our obligations under the State Residential Tenancy Act and overall health and safety issues.
Your health
COVID-19 spreads from one person who has the virus to another person through coughing and sneezing. It can also spread from objects or surfaces.
There are steps you can take to protect yourself and those around you from spreading the virus:
Wash your hands frequently with soap and water or an alcohol-based hand rub.
Avoid touching your eyes, nose and mouth as much as possible.
Maintain at least one metre distance between yourself and anyone who is coughing or sneezing
If you are feeling unwell, it is best you stay home. Even for a slight cough or cold.
Cover your nose and mouth with a tissue or your elbow when you sneeze or cough. Make sure you throw your tissues directly into the bin.
If you have a fever, cough, or trouble breathing see a doctor and call them before you visit. You can also call HealthDirect on 1800 022 222. If you are feeling seriously unwell and it is an emergency, call 000 immediately.
Practice social distancing. Social distancing means:
Staying at home when you are unwell
Keeping a distance of 1.5 meters between you and other people whenever possible.
Minimising physical contact, especially with people at higher risk such as older people and people with existing health conditions.
Avoiding crowded places like public transport, events, shops etc.
Where to find more information
The Australian Government Department of Health website remains the best place for the most up to date information on COVID-19 and this can be accessed at: https://www.health.gov.au/health-topics/novel-coronavirus-2019-ncov
Please listen to advice from your doctors and experts. The media and social media are not always reliable sources of information.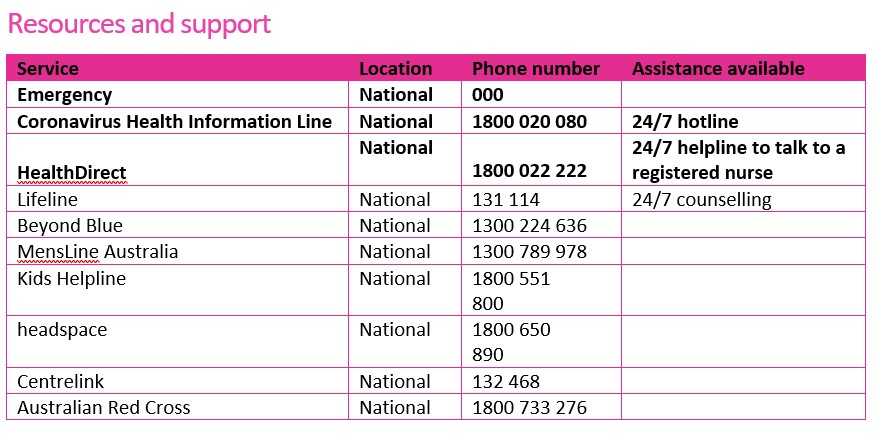 Contact your local Community Development Officer on 1800 269 672 for phone numbers for local support services in your area.