I'm a Celebrity… Get Me Out Of Here! contestant Angie Kent has announced Mission Australia as her charity of choice
If you've been tuning in to Channel 10's I'm a Celebrity… Get Me Out Of Here!, you may have heard Mission Australia name-dropped a few times!
Former Gogglebox Australia star Angie Kent announced Mission Australia as her chosen charity for the series. This means if Angie makes it to the end and is crowned 'Queen of the jungle', Mission Australia will receive a donation of $100,000.
When asked why she chose to support MA, Angie said it was because of the diverse areas we work across.
"Mission Australia look after people with disability, those who need housing, mental health issues – including kids with mental health [concerns], which I wish I had more of when I was growing up - they don't discriminate," she explained, "so my heart kept going back to Mission."
The TV show sends celebrities to live in the South African jungle to raise money for their chosen charity. Here they are stripped of creature comforts and compete in various challenges to earn meals and other luxuries and, ultimately, try to pocket as many public votes as possible so they can stay in the jungle until the end. By the end of the six-week series, only one celebrity will remain and will be announced as the winner at the finale. With $100,000 donated to the winner's chosen charity, the competition is fierce!
How can I support Angie?
If you're interested, there are a couple of ways you can get involved to give Angie the best chance of surviving in the jungle 'til the end!
1. Vote to Save Angie!
If you're a fan of SMS voting to keep your favourite celebrity in the jungle, you can keep Angie in the running by voting for her (SMS Angie to 19951010). Each SMS costs the voter 55c with a portion of the cost of each SMS donated to Mission Australia. So you're texting for a good cause!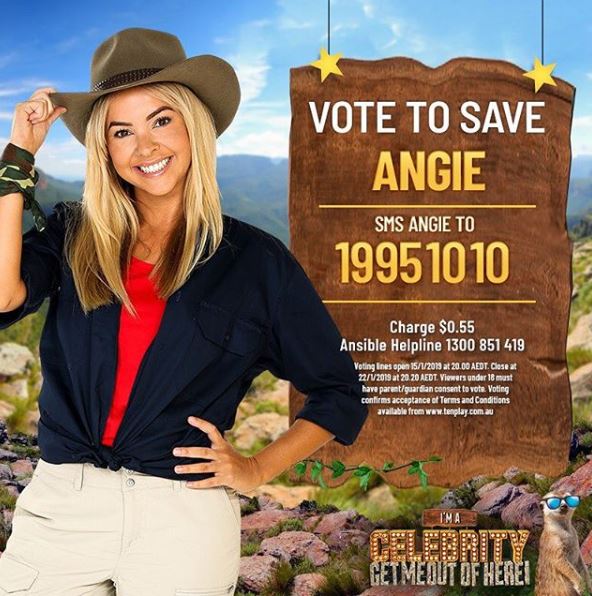 2. Vote for a Trial
You can ensure Angie gets as much airtime as possible on the show by voting for her to feature in a 'Trial', which involves putting the celebrities to the test in a physical challenge. More airtime means more time for viewers to get to know and love Angie! Visit the I'm a Celebrity Facebook and Twitter pages to vote – remember to vote with #CelebAngie.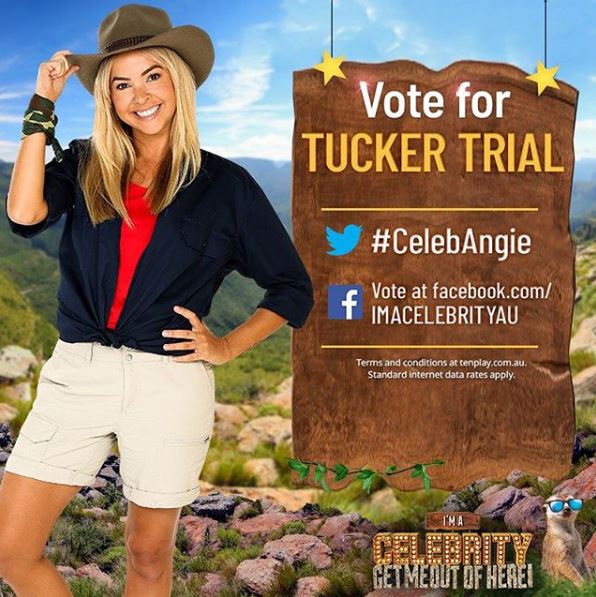 I'm a Celebrity… Get Me Out Of Here! airs 7:30pm Sunday to Thursday on Channel 10. Catch up on full episodes online on 10 Play for free.
Latest
news, media & blog

articles

Read about what we've been working on, our stance on important social issues and how you make a difference to vulnerable Australians' lives.