Home and Healthy: Supporting people leaving hospital into stable homes
The Home and Healthy social impact investment supports homeless people and those at risk of homelessness who are leaving hospital or health facilities by offering holistic support to achieve sustained housing, increased workforce capacity and improved wellbeing.
The program is delivered by Mission Australia and will support up to 1200 people in the Sydney, South Eastern Sydney, Western Sydney and South Western Sydney Local Area Health Districts, over six years. It will start in Central Sydney in July 2019.
Each participant will be supported during their transition from a health facility then ongoing for up to two years, with an allocated case manager, effective housing strategies and access to a holistic team including mental health clinician and lived expertise worker. 
Background
On Census night in 2016, over 37,000 people were homeless in NSW. This represents a significant and escalating issue for the state, as the homelessness population has increased by 37% since 2011.1
People exiting health facilities are particularly vulnerable to homelessness, as shown in the evidence base around bi-directional relationships between homelessness and mental health, physical health, and substance abuse issues. 
Leaving hospital or ceasing an engagement with a health facility, such as a drug and alcohol treatment program, can be a key risk point in a person's journey towards homelessness.  
On leaving hospital, a person may be facing a sudden or big change in their health circumstances and often find themselves not knowing how to respond. Also, individuals managing a longer-term health condition may be unable to mobilise the support needed to avoid homelessness.
The NSW Government is funding the Home and Healthy program as a social impact investment, through its $63 million Homelessness Strategy.   Mission Australia is investing capital through the term of the program. 
Outcome measurement
The Home and Healthy program aims to reduce the prevalence and impacts of homelessness for adults leaving health facilities in Sydney, including hospitals, mental health centres and alcohol & other drug facilities. The program supports people to establish and sustain long-term housing, and to participate in volunteering, training and / or employment
Performance
The program will commence in July 2019. It is expected that the first phase of results will be communicated in 2021.
Investment type: Payment by results 
Contract value: $18.5million (based on expected performance)
Outcome Payments: based on a Rate Card approach 
NSW Government investment: advance payments and outcome payments 
Mission Australia investment: initial funding and capital support through term of program 
Term: 6 years  
Service provider: Mission Australia
Government agency: NSW Department of Family and Community Services
Referring partners: Local Area Health Districts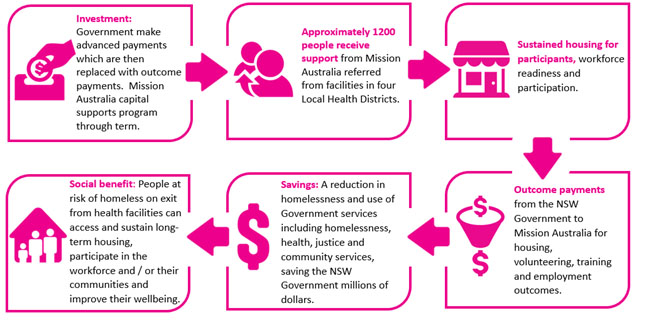 Outcomes will be measured and independently certified throughout the investment.
The NSW Department of Family and Community Services will also measure the success of the program via an independent evaluation.
More information on the Home and Healthy program is available on the FACS website.
Contact: Kirsten Harmer,  This email address is being protected from spambots. You need JavaScript enabled to view it.
1Australian Bureau of Statistics (2016) Census of Population and Housing: Estimating homelessness, DataCube 2 State and territory of usual residence
Latest
news, media & blog

articles

Read about what we've been working on, our stance on important social issues and how you make a difference to vulnerable Australians' lives.