Top of the Op Shops!
Details
Did you know Mission Australia has 11 Op Shops and more than 100 donation bins across NSW? Along with offering training and employment opportunities, the Op Shops provide a diverse volunteer program enabling people from all walks of life to give back to their community, interact with others and gain work experience.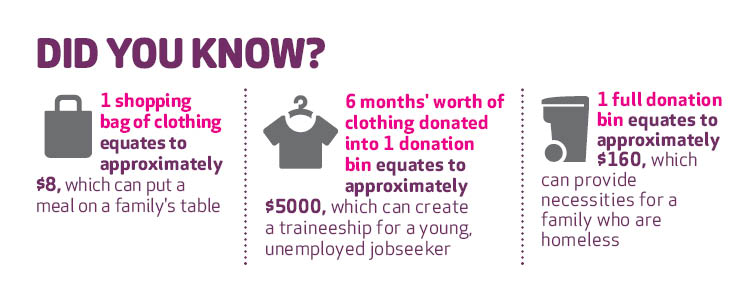 Not so long ago, op shops were just a grim hodgepodge of bric-a-brac, nylon and knitting patterns. But all that has changed. Op shops have finally lost their "ewww" factor! They've had makeovers. They've embraced the dark art of visual merchandising. They've even got their own social media account. Yes, you still need stamina to trawl through the racks, but op shopping is affordable, ethical and fun.
Five great reasons to go
OP SHOPPING
It supports charity. Every dollar you spend goes directly to people in need and provides local jobs and volunteering opportunities.
It's a hipster haven. Love the thrill of the chase? Op shops are the perfect hunting ground for elusive fashion treasure. You'll be surprised at the vintage beauties and designer brands lurking here.
It offers variety. Op shops are full of the deliciously bizarre and the tastelessly mundane. Whether you're after clothes or homewares, there are always hidden gems to be found.
It saves you money. If you're a creative soul on a budget, op shopping is for you. Finding a Gucci handbag at a bargain price is a bit like winning the Lotto.
It's environmentally friendly. By recycling your things, you are reducing landfill and CO2 emissions. None of your valuable donations go to waste. Any unwearable clothing is cut down and sold as cleaning rags.
Find your local Mission Australia OP SHOP here.