Employee engagement
There's so much to be gained from becoming a Mission Australia partner, especially in terms of employee engagement and wellbeing.
Mission Australia works with employees of our corporate partners who want to share their considerable expertise and experience for the good of the community.
Workplace giving
Workplace giving is an easy way for employers and their employees to help people in need, by enabling employees to make automatic, pre-tax donations to Mission Australia through their pay
Workplace giving program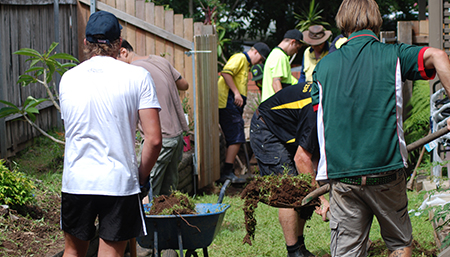 Volunteering
Volunteering at one of Mission Australia's many community services can provide employees with a valuable team-building experience, and the opportunity to contribute wholeheartedly. Your business can chose from a range of meaningful activities that match your employees' areas of interest – be it homelessness, at-risk youth or families in distress.
We have developed best-practice processes to ensure your employees get the most from the corporate volunteering experiences.
Potential volunteering days may include creating discovery gardens at our early learning centres, renovating one of our youth support services or hosting activities for aged care residents who have experienced homelessness.
Corporate volunteering
Pro-bono work
Your employees can also get involved through pro bono work, offering their skills and expertise to directly help people in need. Pro bono work gives your employees the chance to enhance their existing skills, work in a different environment and gain valuable new perspectives.
Send us an email
In-kind support
Mission Australia is also grateful for any in kind support your employees can provide. Donations of toiletries, hampers, Christmas gifts, tickets to events and office supplies are always very much appreciated by our services and the people they support.
Such in-kind support reduces Mission Australia's overhead costs and allows more resources to be allocated to people in need.
Send us an email
Fundraising
Fundraising activities are a great way for your employees to connect, enjoy themselves and develop skills. They can adopt a local service to support, or nominate Mission Australia as the preferred charity at an event.
Do you or your people have a challenge you'd like to meet? If you're out of ideas, we're happy to suggest some! Email us at This email address is being protected from spambots. You need JavaScript enabled to view it.
Raising funds
Latest
news, media & blog

articles

Read about what we've been working on, our stance on important social issues and how you make a difference to vulnerable Australians' lives.