Mission Australia Early Learning
Mission Australia has a strong focus on supporting families and children to build solid foundations for life. We do this by helping families to stay housed, providing parenting programs, running playgroups, giving advice on healthy eating and building strong relationships.
The early years are all about laying the foundations for life. While a child's brain is developing, those first relationships, nutrition and health experiences have an enormous impact. Positive experiences help the brain to develop in a healthy way, while negative experiences such as abuse or neglect can lead to emotional and behavioural problems later in life.
Children also build attitudes towards exercise, self-care routines, relating to others and learning in their first years of life. The blueprint for later life is laid out in those early years, so it is vital that children have every opportunity available to them from day one. 
Mission Australia Early Learning

Early childhood is a time of discovery and growth, which is why Mission Australia Early Learning centres are designed to encourage a sense of belonging, wellbeing and community. Our centres offer much more than quality childcare for children aged from six weeks to six years. They also set children up for a lifelong love of learning and nature.
At Mission Australia Early Learning, we believe in replacing plastic with plants, and exposing children to as much nature as possible – this means there are plenty of trees, grass, vegie gardens and trickling streams to explore. It's the ideal environment for play and learning about the natural world.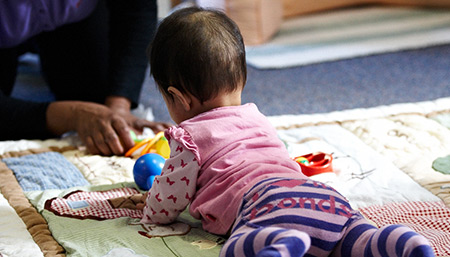 The play-based activities we run at Mission Australia Early Learning centres give children the opportunity to express themselves and learn in a way that feels natural to them.
We also offer activities that stimulate a child's creativity, independence and problem-solving, as well as the literacy and numeracy skills that put kids on track to start school.
And because our centres aim to be at the heart of their communities, families are invited to have a say in the activities offered at their local centre.
Our centres can be found in New South Wales, Queensland, Victoria, South Australia, Western Australia and the Northern Territory.
Latest
news, media & blog

articles

Read about what we've been working on, our stance on important social issues and how you make a difference to vulnerable Australians' lives.