Social enterprise
A social enterprise is a business venture that trades to achieve a social outcome and generate enough income to cover its running costs.  While these businesses operate like any other, aspiring to the highest commercial and service standards, difference in that serving the community is their priority.
Mission Australia operates social enterprises that aim to be financially sustainable while providing economic, social and environmental benefits to local communities.
Put simply, these businesses provide much-needed local jobs, training opportunities and services.
Like many of the world's best social enterprises, ours are also socially innovative and have been recognised for thinking outside the box while giving some of the community's most vulnerable people a fair go.
Our social enterprises are also an important part of Mission Australia's strategy to build a more resilient and sustainable organisation that works with communities to enrich local lives.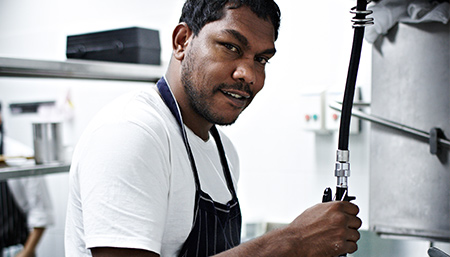 Sustainable communities
Mission Australia's social enterprises work like any other business, except our first priority is to help create healthy and productive communities.
They give young people the chance to learn new skills, build workplace confidence and gain qualifications. Trainees also receive support to overcome any other personal challenges that may have held them back in the past.
Charcoal Lane is a restaurant in the Melbourne suburb of Fitzroy that serves modern Australian cuisine infused with native flavours. It takes on young trainees who are Aboriginal or have experienced significant barriers to employment.
The Philosophy
There is no fixed definition for a social enterprise, but we like this one:
Social enterprises are businesses whose primary purpose is the common good. They use the methods and disciplines of business and the power of the marketplace to advance their social, environmental and human justice agendas.Social Enterprise Alliance, USA
 Our partners at Westpac also recognise that there are several definitions, but believe there are two key elements to a social enterprise:
The first relates to revenue generation: social enterprises may generate a proportion of their income from running a commercial operation, supplementing traditional not-for-profit funding. The second relates to the entrepreneurial nature of social enterprises and their fresh approach to social problems.
Westpac, Mission Australia Corporate Partner
And as the Social Enterprise Council of Canada puts it:
Social enterprises are one more tool for non-profits to use to meet their mission to contribute to healthy communities
Social Enterprise Council of Canada
Our social enterprises adhere to the philosophy that everyone and everything can make a positive difference to the community if given a second chance.
Need employment, skills or training support?
Independence is something we all strive for, but life rarely turns out as planned. Don't be afraid to reach out for help.
Search for a service
    or    
Ask us a question
For specific employment information, follow the below links:
Latest
news, media & blog

articles

Read about what we've been working on, our stance on important social issues and how you make a difference to vulnerable Australians' lives.