Support for parents & carers
Raising children is tough, but sometimes circumstances make the ordinary challenges of parenting seem overwhelming.
When factors such as insecure housing, household unemployment, domestic violence, barriers to learning or work, or mental health issues take over your life, it's hard to give your children the support they need to thrive.
Mission Australia's role is to support mums, dads, nans and pops who are struggling with life's big challenges to get back on their feet so they can be the best parents and carers they can be. Sometimes all that's needed is a small nudge in the right direction to get a life back on track.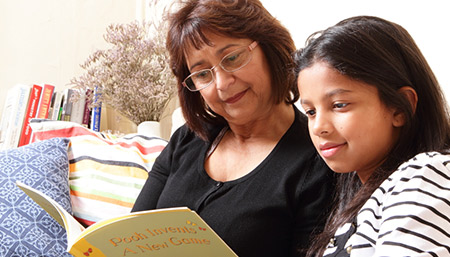 Families of children with special needs
Raising a child with a disability, chronic health condition or learning difficulties can be hard on a family. Without someone to lean on, it can take a heavy physical, emotional and financial toll.
This is why ensuring parents and carers can access support services is so critical. Mission Australia runs several services across the nation to provide this additional support.
These include specialist support programs staffed by specialist early childhood educators, therapists and family support workers who can tailor programs to meet the unique needs of each child and their family.
We can also guide parents who have concerns about their child's development or behaviour towards speech pathologists, occupational therapists, physiotherapists and special education.
Mission Australia community workers can also link parents and carers with specialised programs, support groups, transition-to -school programs and home-based intervention. And apart from the quality care provided at Mission Australia's Early Learning Services centres, we also operate select preschools that specialise in teaching and caring for children with disabilities or developmental delays.
Connecting with others
While rewarding, caring for a child when you have few, if any, people to share the load with can be exhausting and isolating. This is why Mission Australia runs several support and mentoring programs that enable parents and grandparent or other carers to connect with others in the same situation.
Our groups for parents and grandparent carers give people the chance to socialise, take a break from their routines and attend outings. They also help families to develop skills to manage conflict and offer advice for caring for children and teenagers. 
Importantly, they can also put mothers, fathers, grandparents and other carers who struggling with their daily duties, health issues or their finances in contact with other community support services.
For more information, download our research into families and children.
Need support with your family and/or children?
Independence is something we all strive for, but life rarely turns out as planned. Don't be afraid to reach out for help.
Search for a service
    or    
Ask us a question
For help with early learning and development, please visit our early learning website
If you, or someone you know are in crisis, encourage them to call Lifeline Line on 13 11 14.
If you think their, yours or the life of any other person in the family is in danger, the best thing to do is to call 000.
Latest
news, media & blog

articles

Read about what we've been working on, our stance on important social issues and how you make a difference to vulnerable Australians' lives.