Annual Youth Survey
Mission Australia is calling on Australia's youth to share their thoughts, concerns and dreams in our largest annual nationwide poll of young people. The 2017 Youth Survey is now open to all Australians aged 15-19, giving young people a platform to have their say and create a better future for all Australians.
Mission Australia CEO Catherine Yeomans encourages all young people to make their voice heard in this year's Youth Survey.
The more people that get involved, the more inclusive, insightful and representative of the broader youth community the results will be.
Yeomans says the results provide a valuable snapshot of young Australians and offer important insights that inform both Mission Australia's work and government decision making. The survey is now open, and closes on 31 July 2017. Results will be analysed and released before the end of the year.
Youth Survey Toolkit
Get involved
Here's how you can get involved:
Aged 15-19? Have your say in the 2017 Youth Survey.
Donate to help young people and their families battling with mental illness and other concerns
Share the 2016 survey results on Facebook or LinkedIn
About the Mission Australia Youth Survey
Each year we encourage Australians aged 15-19 to 'speak up' about the issues that really concern them through Australia's largest online youth survey. In 2016 we had nearly 22,000 respondents.
We strive for an accurate representation of our nation's youth. Among those who take part are young people who are in detention, and teenagers who are homeless or are at risk of being so. Since its inception 16 years ago, the Youth Survey has become a critical piece of research and is used to inform the agendas of governments, policy makers and community organisations. The results can also be reported for specific locations or schools where there are enough respondents.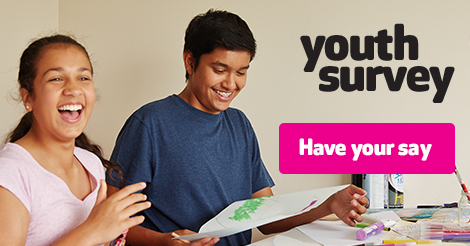 Highlights from the 2016 Youth Survey
In 2016, young people identified alcohol and drugs and equity and discrimination as the most important issues in Australia today. Tellingly, mental health entered the top three for the first time in the survey's 15-year history, with concerns about mental health doubling since 2011. Young people continue to nominate coping with stress, school or study problems and body image as their top three issues of personal concern. Mental health issues were also increasingly identified as personal concerns for young people.
Discrimination also stood out as a growing area of concern that needs to be combated through political leadership, education, media interventions and programs at organisational and community levels:
1 in 4 young people experienced unfair treatment or discrimination in the past year
Of the 3 in 10 young females who reported experiencing discrimination, half reported gender discrimination
Of the 2 in 5 Aboriginal and Torres Strait Islander young people who reported experiencing discrimination, more than half reported discrimination on the basis of race or cultural background
Read the report
Latest
news, media & blog

articles

Read about what we've been working on, our stance on important social issues and how you make a difference to vulnerable Australians' lives.