Community development
Mission Australia works in partnership with communities in Australian cities, towns and remote locations to find sustainable solutions to local issues.
We seek to work in places where we have an invitation from community leaders and where we can commit long-term. Importantly, we recognise that effective development can take decades, as opposed to months or years.
Our aim is to empower people to meet their own needs and those of the community. We do this by advocating for funding and programs that help communities to identify their needs and evaluate local support programs.
Mission Australia also recognises a community's existing strengths and associations, and focus on their aspirations to bring about real and lasting change. In both remote and urban settings, this process is delivered by a local Community Development Facilitator, who draws the community together and concentrates on local assets.
What is community development?
Community development is the process of working alongside individuals and groups to ensure they have the skills and support to bring about local positive change.

The goal of community development, according to Matthew Clarke, Director of the International and Community Development Program at Deakin University, is to "advance human dignity, freedom, social equity and self-determination."
In practice, a Community Development Facilitator begins a four-stage process: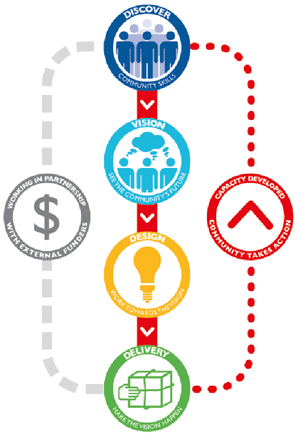 Discover
Residents come together to discover their community's strengths and skills.
Vision
They define how they would like their community to look and focus on a likely community project.
Design
Together we create the vision for what could be and shape the project.
Delivery
The project or program created by the community, for the community, is delivered.
After these steps, the community is ready to take ownership and repeat the cycle themselves. For this to take place, community leaders need to be identified and empowered to take on responsibilities and work with their peers.
Latest
news, media & blog

articles

Read about what we've been working on, our stance on important social issues and how you make a difference to vulnerable Australians' lives.