Youth services
Mission Australia provides youth services across the nation that support young men and women as they journey towards adulthood. Using our research, we develop and deliver support services, and stand up for our young people.
For most young people, the journey from childhood to adulthood is full of change, uncertainty and challenges. Along the way, they may experience stress at school, self-image doubts, relationship dramas and the pressure to choose a career path – things that are often considered to be part of the growing up process.
For some young Australians, however, these everyday challenges are compounded by mental illness, family breakdown and even incarceration and homelessness. These are challenges that no one, especially those so young, should have to face alone.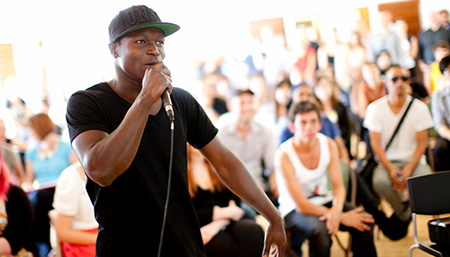 With the right support, we believe every young Australian can reach their full potential and we know that prevention is the key. Young people who feel valued, loved and supported are much more likely to stay on track during their teenage years.
We work with schools, families and communities to look for signs that young people are at risk of disengaging from school, developing drug and alcohol problems, losing contact with their family, becoming homeless or getting involved in crime. Mission Australia youth and community workers then provide support through tailored art and music, alternative education, body image education, mental health awareness and drug and alcohol programs.
Mission Australia is committed to the safety of young people in our care. We also advocate for at-risk youth by pushing for the implementation of policies that protect vulnerable young Australians.
Understanding young people
At Mission Australia we believe one of the best ways to find out what support young people need is to ask them. Mission Australia is also guided by the expert knowledge of our youth workers and other community services staff, many with decades of experience supporting young people.
Young offenders
Mission Australia knows that vulnerable youth, including those who have been abused or neglected, are also more likely to be incarcerated. They risk becoming our most marginalised adults.
Youth homelessness
Mission Australia does everything we can to make sure vulnerable teenagers remain safely housed. We do this by working with communities to identify youth at risk and getting them involved in activities that help them to overcome personal, school, health and behavioural challenges.
Learning and earning
Mission Australia has several ways of supporting teenagers who are not earning or learning. We offer structured work experience, mentoring and certified training to give them an idea of what employers expect and the skills they need to get a start.
Health and Education
Having a healthy mind and positive outlook can help young people get through life's ups and downs. Mission Australia has a whole-person approach, which means we consider each individual's unique needs and experiences.
We give young people with drug, alcohol and mental health issues access to a range of services – including counselling, accommodation and life skills training – that can help them get back on track.
Mental wellbeing and disability support
Support for young people
Independence is something we all strive for, but life rarely turns out as planned. Don't be afraid to reach out for help.
Search for a service
or
Ask us a question
These organisations also offer health and wellbeing support for young people:
Find out more about Mission Australia's Annual Youth Survey, or download our research into young people.
Latest
news, media & blog

articles

Read about what we've been working on, our stance on important social issues and how you make a difference to vulnerable Australians' lives.