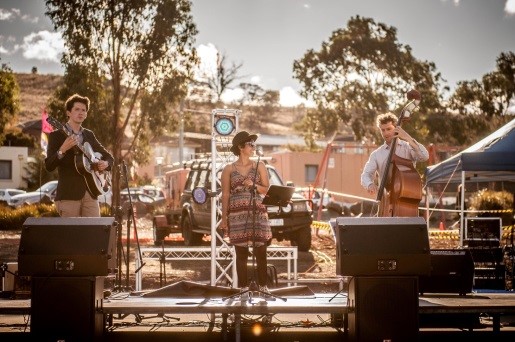 Published: 02 June 2016
A Big Day Out on the Plains
Over 1700 residents from Clarendon Vale and Rokeby in Tasmania, along with local leaders and MPs, recently came together to celebrate everything that makes the Clarence Plains a great place to live.
Now in its tenth year, the Clarence Plains Festival has something for everyone – from music and rides to exhibitions of art, craft and woodwork made by groups from neighbourhood centres.
Mission Australia Housing's GROW Project, run by Andrew Doube in partnership with Food In My Backyard, displayed gardens made by school children from recycled milk crates.
Meanwhile, local singing group Find Your Voice – organised and run by our own Tenant Engagement Officer, Wendy Bryant – got the crowd clapping to their debut performance of 'Clarence Plains Community Song'.
Over 200 performers were involved in the festival, including 120 school children who performed 'The Doors Between,' a dance choreographed for the event.
The Mission Australia Youth Beat van was also at the festival and put on a variety of games for everyone in the community to enjoy.
Presiding over the festival was a three-metre art sculpture named Big Dude, made out of recycled street signs by renowned puppet maker Tristan Stowards with the help of local students.
After the sun set, festival-goers lit up Hobart's Eastern Shore by creating miniature magnetic light sculptures made from modelling clay, LEDs and batteries– the same materials used to make Big Dude shine bright.
This year's Clarence Plains Festival would not have been possible without the collaborative effort of Mission Australia Housing, Rokeby Neighbourhood Centre, Clarendon Vale Neighbourhood Centre, the Tasmanian Government, Lions International and Clarence City Council.
Waiting in line for his turn on a ride, one local boy summed up the day when he declared it "the best festival ever!"
back to top