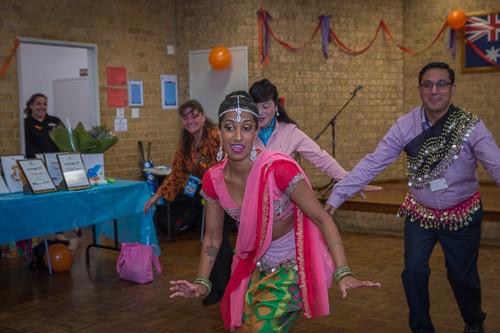 Published: 29 March 2016
Harmony Day with Mission Australia Housing
Harmony Day is about inclusiveness, respect and a sense of belonging for everyone. And that is exactly what happened in Wentworthville this year at Mission Australia Housing's Harmony Day event for tenants. In partnership with Evolve Housing almost 70 tenants from the Greater Western Sydney region came along to join in on the fun, either as an audience member, performer or both!
Kicking off the day, Jacinta a musical educator, composer and scriptwriter, and who received the "USUNG HERO" NAIDOC award in 2010, opened the event with a special Welcome to Country that told the story of her people of the area, the Darug people.
On behalf of the Darug people, Jacinta said that she "would like to welcome everyone home. This is because Aboriginal people believe that all our countries were once connected. We were all one and lived harmoniously together. As Country moved and started to separate so did we as people. Now in this room we are all coming back together, we are all coming home."
Dancing for over 25 years, Shyamla has taught a variety of dances in Sydney and London and got everyone up and dancing along to a couple of cheeky Bollywood routines, including Greater Western Sydney Operations Manager for Mission Australia Housing, Sandeep Sharma (in purple shirt).
There were also a number of Chinese performers including Wai who performed an old traditional Chinese song, Vera who recited her own life story "Journey Home" and a Chinese Choir who gave everyone a rendition of a traditional Chinese Cantonese song.
Australia's Got Talent also made it in to the room with 2 semi-finalists. First up was 15 year old Bobby who belted out a few old crooner tunes with his trumpet over lunch, followed by Imran who performed his native "peacock dance" from Pakistan.
Arriving in Australia as a refugee in 2001, Imran remains connected to his culture by rehearsing the peacock dance every day for 2 hours. The peacock is the national bird in Rajasthan and this traditional dance tells the story of the sacred peacock bird that is both beautiful and ugly and its plight with accepting its ugly feet! Imran loves to perform this dance for special charity events, his most memorable in 1997 when he performed it for Princess Diana at a fundraising event for the Pakistan Cancer Hospital and even shook hands with her!
The central message for Harmony Day is that 'everyone belongs', reinforcing the importance of inclusiveness to all Australians. Looking back on the day, where a picture tells a thousand words this image sums it all up:
From Liberia, this was Kadiatu's first Harmony Day event since moving to Australia in 2011. Kadiatu said that whilst she "loves Australia, I find it difficult to make friends and I miss my family who are all back in Sierra Leone. I can only afford to call them maybe once a fortnight."
On the opposite side of the room was Brenda who moved to Australia from Nottingham, England when she was 26 and is now 74, "although I tell people I am 47!" Brenda also misses her family, especially now that her son has returned to England.
So although worlds apart, Kadiatu and Brenda struck up conversation and shared stories, soon realising they had similar life experiences. By the end of the day, they had also shared contact details and were planning another time to catch up.
And it is this that is what Harmony Day is all about- it is a day for all Australians to embrace cultural diversity and to share what we have in common. As Brenda said, or more so her mother: "See those flowers there Brenda, all their different colours? That is how we are made. We are all different but bleed the same colour."
back to top