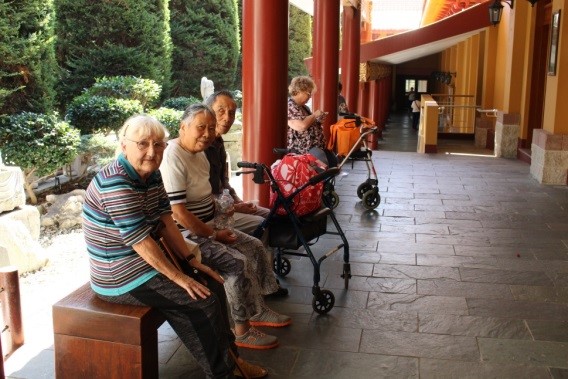 Published: 15 June 2016
Mission Australia Housing Tenants Visit Southern Paradise
Also known as 'Southern Paradise', the Nan Tien Temple in Wollongong opened just over a decade ago. Since then it has become a popular destination for local and international tourists.
Recently, as part of MAH's tenant engagement program, a busload of tenants from our over 55s complexes in Greater Western Sydney were among the visitors enjoying a bit of Zen time. They were joined by NSW Chaplain Karen Mulvey and MAH Blacktown staff.
After being confined to the bus on the trip down from Sydney, everyone enjoyed limbering up with a session of Tai Chi, followed by a whole body meditation. The group were also given lots of tips on how to relax and slow down the mind.
"I have been feeling really stressed lately with everyone else's problems and need to start taking care of myself. I normally get up early in the morning, so now I am going to set up a little space on my balcony with all my plants, and start the day with meditation," said one tenant.
Having worked up an appetite and feeling extremely relaxed, the group went to the dining room to enjoy a healthy vegetarian lunch. Some tenants commented that the food was so delicious they didn't even miss the meat!
The group then went on a guided tour and learned how the temple acts as an important centre for bridging different cultures.
"Coming here was just like going on an overseas holiday without leaving the country," said one tenant.
A prayer dedicated to senior citizens finished off the day, and everyone was given a personal dharma (inspirational motto) to remind themselves to stop and take care of what was important to each of them.
Thank you to our support partner, Australian Unity Aboriginal Home Care in Penrith, who provides us with free bus services to transport tenants. This event wouldn't have been possible without them.
back to top