News

>

Mission Australia CEO reveals Duke Street social home plans and calls for more social and affordable housing

Published: 02 July 2020
Mission Australia CEO reveals Duke Street social home plans and calls for more social and affordable housing
Mission Australia's CEO, James Toomey will be in Coffs Harbour on Wednesday 1 July to reveal Mission Australia Housing's plans for their new social home apartments on Duke Street in Coffs Harbour's CBD. While releasing the artist impressions of the development, Mr Toomey will also be encouraging locals to join the Everybody's Home campaign which calls for more social and affordable homes and a national plan to end homelessness.
Construction of the 40 one-bedroom social home apartments will commence in the second half of 2020 and will be completed in 2021. At full capacity the complex will house 40 individuals in need of a safe, secure place to call home.
Contributing to the stock of much needed social and affordable housing for those who are homeless or at risk of homelessness in the region, the development is part of Mission Australia Housing's footprint of more than 1,428 social and affordable homes across the Mid North Coast.
Mission Australia CEO James Toomey said: "This exciting new development will provide vital community infrastructure that will contribute much needed homes in Coffs Harbour.
"It will be centrally located with access to shops, services and transport, allowing residents ease of access to education, transport, jobs and services in the area.
"The two indoor communal rooms for tenants to share and run activities, as well as outdoor areas for resident initiatives such as community gardens, will be important places that will support residents to maintain their wellbeing and connect with their local community.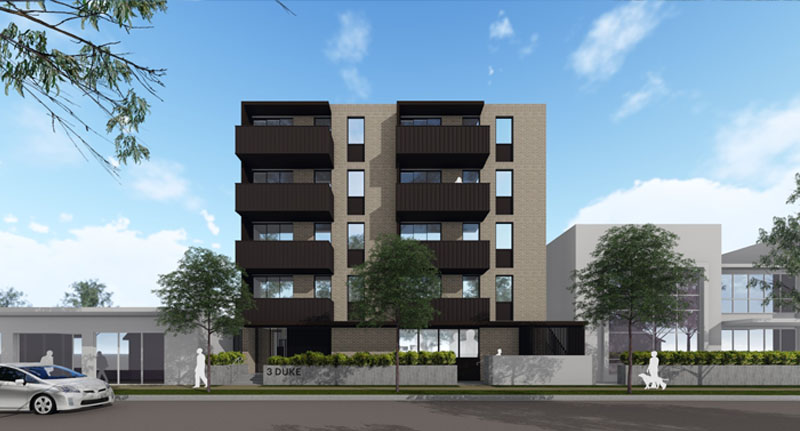 "Mission Australia's Community Development team and the Tailored Support Coordination Service will support residents to identify goals, develop plans and connect tenants with education and employment, while ensuring they are linked to the right services for tailored support to meet their needs."
Mission Australia Housing expects the units will house people that they have identified as most at risk within the area, such as young people and older people who are facing challenges in maintaining stable rental accommodation, particularly those facing severe rental stress.
With the region set to face increased economic and unemployment challenges in the wake of the bushfires, floods and now the COVID-19 pandemic, Mr Toomey is also using his time in Coffs Harbour to encourage the community to join the sector's Everybody's Home campaign which calls for investment in 500,000 social and affordable homes nationally by 2030 and a national plan to reduce, prevent and ultimately end homelessness in Australia.
"Australia has a shortfall of 500,000 social and affordable rental homes. In Coffs Harbour alone there are over 800 people on the social housing wait list and there is still a five to 10 year wait for social housing. For locals finding it hard to afford rentals, or struggling to find a safe place to call home, providing more affordable housing in the region is a vital step towards housing the 1,073 people who are homeless on any given night across the Mid North Coast and the many more who are at risk of homelessness."
Mr Toomey continued: "If we have learned anything from this public health crisis, it's clear that safe, affordable and appropriate housing is a vital foundation of health and wellbeing for everyone.
"While we move toward economic recovery, we also anticipate an influx of people facing homelessness. Governments risk an increase in homelessness if there remains little to no investment in new social and affordable homes.
"In a post-Covid Australia, our governments must invest in providing new social and affordable homes to address homelessness and ensure that everyone has a safe place to call home. We stand at the precipice of opportunity to come out of this public health crisis with a stronger housing system and economy.
"I encourage Mid North Coast locals to sign up to the Everybody's Home campaign online to join Mission Australia, our sector colleagues and concerned citizens to call for a national plan to end homelessness and for long-term investment to address the critical shortage of social and affordable homes. This will not only help to end homelessness in Australia, but will also create much needed jobs in the construction industry across our country.
"Now more than ever, we need a commitment to at least 500,000 new social and affordable homes by 2030," said Mr Toomey.
Mission Australia Housing has also recently completed a social home residential block in Taree.
Mr Toomey said: "The block of seven apartments which Mission Australia Housing has been busy renovating over the past months have recently been completed and are ready to house some of the region's most in need.
"Given the effects of COVID-19, the last few months have been a precarious time for those already at risk of homelessness, and has pushed many more into crisis situations.
"The units at Taree are available to meet the need now, with wrap-around supports available to ensure residents not only have an immediate safe place to call home, but are supported with the appropriate services to work through personal challenges and transition to permanent long-term housing options."
Media contact: Lauren Gillin, This email address is being protected from spambots. You need JavaScript enabled to view it. 0475 959 494.
image credit: Become architects
back to top