Mission Australia releases Annual Report 2016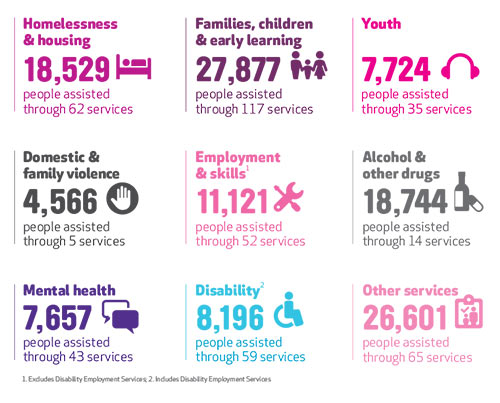 Mission Australia assisted more than 130,000 Australians in need to move towards independence in 2015-16 thanks to the support of our funders, donors, partners and tens of thousands of caring Australians.
Released today, our Annual Report for 2015-16 shows how our dedicated staff and selfless volunteers helped 131,015 Australians across 452 programs and services.
Our work was made possible thanks to the support of dozens of government departments, hundreds of partners, and more than 45,000 Australians who gave generously throughout the year.
Mission Australia continues to be a responsible steward of the funds it receives, with 86.6 per cent of our income invested straight back into helping Australians in need.
The year has seen us continue to focus our activities on reducing homelessness and strengthening communities across Australia. Here are some highlights:
Our 10-point Homelessness Action Plan set out targets to halve youth homelessness by 2020, halve homelessness by 2025 and halve the number of low income earners living in rental stress and at risk of homelessness
We continued our advocacy efforts, providing submissions to State and Commonwealth parliamentary inquiries and reviews on the cost of youth homelessness, youth mental health, early childhood education and care, and family and domestic violence
We began delivering Transition to Work in 14 locations across NSW, Victoria and South Australia, giving school leavers the skills necessary to successfully transition into employment
We continued to focus on early intervention with programs like the Young Parents Network, which brings young parents together and supports them with parenting skills and practical strategies to increase their children's life chances
Construction began on Benjamin Short Grove, our new 60-bed aged care facility in Orange, which will provide high quality care to people who are homeless, at risk of homelessness, or socially and financially disadvantaged
We extended impact measurement to more services using a personal wellbeing index score approach. A Social Ventures Australia report highlighted the long-term positive impacts of our Triple Care Farm youth alcohol & other drugs program, revealing that every dollar invested produces a three-fold return on social investment.
The year ahead will present many challenges for all of us involved in this vital work, but our belief and confidence in our staff, partners, supporters and clients is stronger than ever. Together, we will lead the way in meeting these challenges, with innovation, hard-won expertise and real impact.
Together, we stand with Australians in need, helping them lead healthy, happy and self-sufficient lives.
Find out more
Annual Report 2016 snapshot infographic Annual Report 2016 Consolidated Annual Financial Report 2016
---
Watch for a quick snapshot!
Related
media releases
Read about what we've been working on, our stance on important social issues and how you make a difference to vulnerable Australians' lives.