Mental health
Every year, approximately 1 in 5 Australians* will experience a mental health issue. Mental health issues are the third leading cause of disability burden in Australia. Not all mental health issues are the same and many people can recover if they receive support early.
4 million Australians* have a disability and of those, only 15% are physical and 90% aren't visible.
Mental health issues are among the greatest causes of disability, significantly impacting quality of life and productivity. A disability, whether visible or not, shouldn't prevent a person from being an active member in their community or enjoying satisfying work and independence.
Mental illness can affect a person's psychological, physical, emotional and spiritual wellbeing. It comes in many forms, and impacts every individual differently.
When suffering from mental illness, people may struggle to function in some aspects of their life. For example, securing and maintaining a home or a job may be extremely difficult.
Some individuals may only have one episode in their life and make a full recovery. For others, the road to recovery may be longer with more severe impacts on their quality of life. As there are many types of mental illness, the treatment and support options are also wide and varied.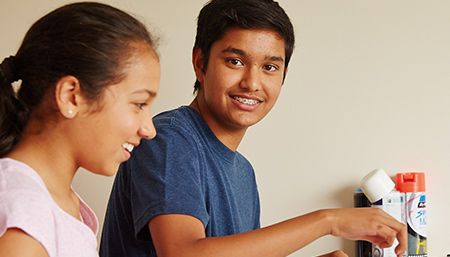 Personal Helpers and Mentors Program (PHaMs)
PHaMs is a strength and recovery centred program funded by the Department of Social Services (DSS) supporting people whose lives are severely affected by a mental illness.
The program caters for people 16 years and over who are willing to receive help for their diagnosis and to address any drug and alcohol issues during the course of participation.
Each PHaMs participant receives a culturally appropriate service that is designed to meet, in the least restrictive way, his or her individual needs and personal recovery goals.
Housing & Accommodation Support Initiative (HASI)
The Housing & Accommodation Support Initiative (HASI) offers flexible support to people 16 years and over with a severe and persistent mental illness through psychosocial recovery support within the community. HASI works with people on their recovery journey, encouraging independence, promotion of self-esteem and a strong focus on each individual's strengths, while also aiming to reduce hospital admissions, recidivism and homelessness.
HASI is a flagship service, that has been run by Mission Australia for over 12 years, continually being refunded by NSW Health.
Transitioning PHaMs and PIR to the NDIS
Mission Australia is fully committed to our role as a National Disability Insurance Scheme (NDIS) Partner in the Community delivering the Early Childhood Early Intervention (ECEI) and/or the Local Area Coordination (LAC) services.
Gambling help counselling
Mission Australia provides free, confidential counselling support for people concerned about their gambling. Support is also available for their families and/or friends.
We take a holistic approach, using each individual's strengths to achieve their goals. Our counsellors act as a guide to help promote positive and long-lasting change.
Alongside counselling, choosing to exclude access to problem venues is particularly effective. Families can also learn about coping with gambling behaviours and self-care.
We offer variety of counselling options, including face-to-face, telephone and online.
This service is funded by NSW Office of Responsible Gambling.
Search for a gambling counselling service
Latest
news, media & blog

articles

Read about what we've been working on, our stance on important social issues and how you make a difference to vulnerable Australians' lives.