Volunteer
Mission Australia is supported by thousands of passionate volunteers who generously donate their time, energy and expertise to help us to deliver our programs and services for Australians in need.
Volunteers from the general public, local community groups, churches and corporate partners play a vital role in helping us achieve our goal of reducing homelessness and strengthening communities around the country.
We are extremely grateful for all of the contributions that our volunteers make to our work.
Current volunteer vacancies
The availability of volunteering opportunities at Mission Australia depends on the service and local demand. Roles are advertised on this website and through local community networks.
If you are interested in volunteering with Mission Australia, please view the current volunteer opportunities listed on our Go Volunteer page.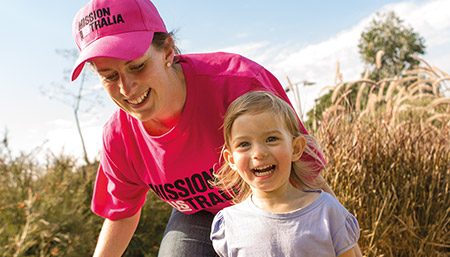 Corporate volunteering
Corporate volunteering provides employees with the opportunity to develop a deeper understanding of the work we do and the people we help.
All of our volunteering activities are designed to add value and meet the needs of our services and clients. They can vary greatly, from hosting lunches for clients and supporting community engagement activities, to improving facilities with room and garden makeovers.
We also work with our partners to identify and match skills-based volunteering opportunities that utilise existing expertise and further support our services.
Email This email address is being protected from spambots. You need JavaScript enabled to view it. to find out more about engaging your employees in corporate partnership opportunities and engagement activities.
Student placements
Student placements are available within some of our community support services. Please view our full list of services in the Mission Australia Service Directory and make contact with the service that is in the field of interest and location suitable for you.
Have a question?
Check out our Frequently Asked Questions for more information about volunteering with Mission Australia.
If you have any further queries about volunteering with Mission Australia, please complete the volunteering enquiry form or call 1800 110 578.