Reconciliation Action Plan

Mission Australia's vision for reconciliation is a reconciled Australia where the Aboriginal and Torres Strait Islander people of this country will be restored to a place of equity, dignity and respect. We aspire to see our national soul healed and for Aboriginal and Torres Strait Islander cultures to be fully valued. We wish for broken relationships restored and social inequalities eradicated.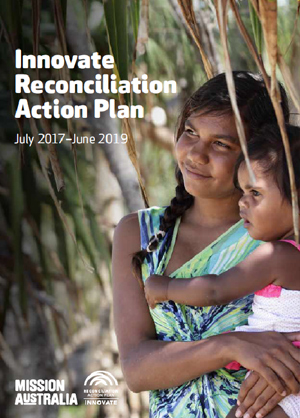 Our Reconciliation Action Plan, or RAP, details how Mission Australia is committed to help reduce the gap in living standards between Aboriginal and Torres Strait Islander and non-Aboriginal or Torres Strait Islander Australians.
The plan follows Reconciliation Australia's well-established themes of relationships, respect and opportunities, which aligns with our own organisational values of respect, compassion, integrity, perseverance and celebration.
Developed with our staff and Reconciliation Australia, the Mission Australia RAP for July 2017 – June 2019 has been our roadmap for implementing lasting change. Actions have included training, cultural awareness and better policies to recruit and support Aboriginal and Torres Strait Islander employees.
During the next 12 months we will be developing a further RAP in partnership with Reconciliation Australia. A dedicated RAP Coordinator will be supported by a new RAP Reference Group and local RAP Champions across the organisation.
Aboriginal and Torres Strait Islander youth report
Mission Australia acknowledges the traditional custodians of the lands on which we work, and we pay our respects to the Elders past, present and future for they hold the memories, the culture and dreams of the Aboriginal and Torres Strait Islander People. ​
We recognise and respect their cultural heritage, beliefs and continual relationship with the land and we recognise the importance of the young people who are our future leaders.
Latest
news, media & blog

articles

Read about what we've been working on, our stance on important social issues and how you make a difference to vulnerable Australians' lives.