Understanding young people
At Mission Australia we believe one of the best ways to find out what support young people need is to ask them. Since 2002 we have sought to increase our understanding of young people through a national survey.
We also listen to the young people who attend our services. By taking their feedback on board, our community service workers are able to develop more effective and relevant support programs and events.
Mission Australia is also guided by the expert knowledge of our youth workers and other community services staff, many with decades of experience supporting young people.
One of Mission Australia's values is celebration, which is why we love to host events that bring young people and the community together.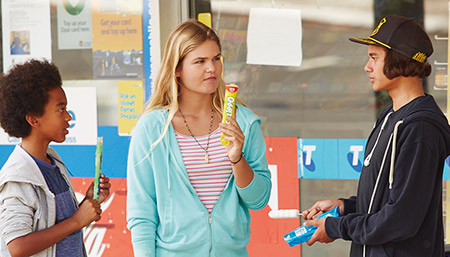 Our Annual Youth Survey
Mission Australia's Youth Survey is the nation's largest online annual 'temperature check' of teenagers aged between 15 and 19. Run every year, this highly influential survey gives young people the chance to have their say.
The Youth Survey tells us what concerns young people, where they turn to for support and how they see the world. The results are of great interest to the media, community and policy makers.
What we learn each year – coupled with the latest research from Australia and beyond – helps shape better support services for young people in urban, rural and remote areas.
Festivals and events
Our youth workers also regularly run events that give young people the chance to display their creativity and learn about mental health support, education and career opportunities. These include Youth Week celebrations, art exhibitions, album launches and photography shows.
Our Creative Youth Initiative service also gives struggling young people the chance to develop their confidence and creativity through visual arts and music. These celebrations of community help our youth workers to reach out to young people and let them know that support is available it they need it.
Find out more about Mission Australia's Annual Youth Survey, or download our research into young people.
Latest
news, media & blog

articles

Read about what we've been working on, our stance on important social issues and how you make a difference to vulnerable Australians' lives.