At Darwin office opening, Café One celebrates new partnership with Intrepid
A new office space will mean new opportunities for the Darwin team to more effectively serve their community. On Tuesday, 26 March, the team celebrated the opening of their new office accompanied by Mission Australia social enterprise, Café One, that served up some delicious handcrafted drinks.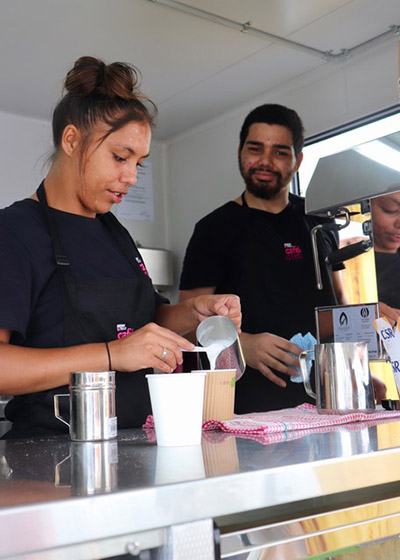 The team did a great job of supporting the community from their previous office, but it was dated, in poor condition and had no disability access. The new space will be safer for staff, more accessible for people we help, encourages collaboration and has room for the team to grow.
While Café One poured some caffeinated creations to celebrate the new office, they were in good spirits with their own reason for celebration.
Café One, Darwin commenced last year, with a pilot intake in May 2018. Ten participants were accepted into the program, and eight were successful in obtaining Food Safety and Barista units at Charles Darwin University.
After some uncertainty regarding Café One's continued funding beyond the pilot phase, The Intrepid Foundation has offered its support to fund the program – meaning more young people will receive training and support.
The Intrepid Foundation is the not-for-profit for Intrepid Group, the world's largest adventure travel company. They work with local organisations around the world to improve the livelihoods of vulnerable individuals and communities through sustainable travel experiences. With their travellers' help, they've contributed more than A$7.5 million to over 125 community organisations since 2002.
"We saw a strategic alignment and a common goal between Café One and Intrepid Group.," said Mission Australia Partnerships Manager Jessica Oey. ". " And, Intrepid Group's commitment to this initiative means that every donations made to Café One through The Intrepid Foundation will be matched dollar-for-dollar by Intrepid Group.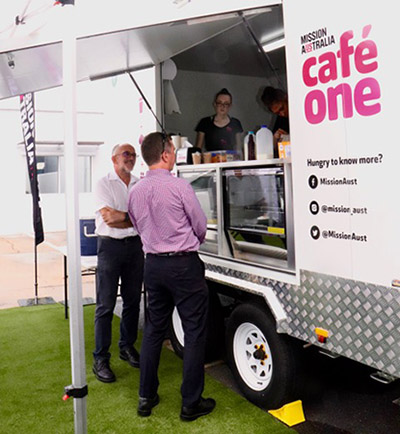 "The partnership between Mission Australia and The Intrepid Foundation is exciting – it's giving disadvantaged young people in Darwin a fresh start," said The Intrepid Foundation General Manager, Robyn Nixon. "With practical training in hospitality and professional accreditation, they're gaining a pathway forward. And, by receiving individual support to address barriers to employment – such as mental health and substance abuse – these young people are empowered to change their self-image and build confidence."
The Café One program will assist disengaged, predominantly indigenous, young people aged 16 to 24 years old with an avenue into employment and education. This will be achieved through a holistic support program that covers life skills and practical work experience in the Café One van. Once the program is complete, participants will be supported for a further 12 months to find employment, work experience, internships, apprenticeships or further study. The hospitality and tourism industry is a leading employer in the NT, and by receiving practical experience in this area, Mission Australia will be able to more effectively assist young people to gain employment within this industry.
In addition to learning practical skills such as safe food handling practices and customer service, participants will also increase resilience, improve coping strategies, and ultimately develop better self-image and self-confidence.
Thanks to our friends at The Intrepid Foundation and Charles Darwin University, we can't wait to see what the future holds for the young people who participate in the Café One program!
Related
media releases
Read about what we've been working on, our stance on important social issues and how you make a difference to vulnerable Australians' lives.