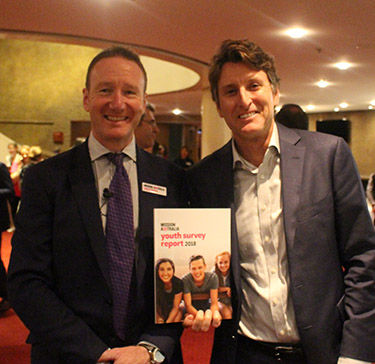 The 2018 Youth Survey results are out! For over fifteen years, Mission Australia has produced the Youth Survey, which gives young people aged 15 to 19 a chance to speak up about the issues that concern them. This year's results show a 10% increase in concerns around mental health since last year.
Another notable finding was that four in ten (43%) young people identified mental health as the top issue facing Australia today – up from 33% in 2017 and doubling since 2016.
Mental health also entered the top three issues of personal concern in the annual survey which was completed by more than 28,000 young Australians. The top three personal concerns were coping with stress (43%), school or study problems (34%) and mental health (31%). In previous years, the third most cited item was body image (30%), which moved to the fourth spot in 2018. Each of the top four personal concerns have strong links to mental health.
Our CEO James Toomey expressed the importance of listening to young people's clear and growing concerns around mental health and taking immediate action to ensure all young people have access to the right supports.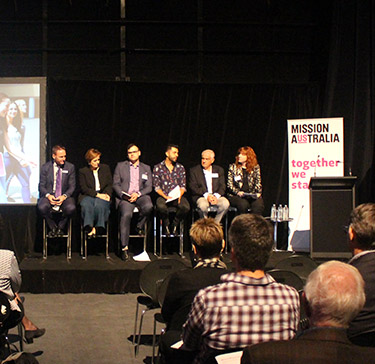 "We must acknowledge the positive effort both nationally and internationally that has raised the public awareness and, in part, reduced the stigma of mental health issues. We should acknowledge the effectiveness of these efforts in the increased identification of mental health as a personal and national concern in our results.
"Yet, we do need to ensure that awareness is matched with adequate access to the right help when needed. Whatever a young person's background or circumstances, we know that access to appropriate and timely support can make a real difference in their lives.
"Unfortunately, we also know that help is not always there. The service system is difficult to navigate and the support offered can be patchy, especially outside of metro areas, and often not tailored to the needs of young people and their help-seeking preferences. This has to be tackled as a priority."
On Friday last week, we explored these findings at a breakfast and discussion in Sydney with many of our supporters and corporate partners as we celebrated the launch of the Youth Survey. Thank you to our corporate partner GPT for hosting the event.
Attendees had the opportunity to hear from leading child psychologist Dr Michael Carr-Gregg. He gave a compelling talk on the concerns of young people, what needs to be done in light of growing concerns over youth mental health issues in Australia and the important role parents play. Attendees also enjoyed a panel discussion exploring the implications and practical solutions to help young people. Facilitated by SBS's Patrick Abboud, panellists included Dr Carr-Gregg, Wenona School Principal Dr Briony Scott, UN Youth Representative Amos Washington, Youth Action CEO Katie Acheson and Mission Australia CEO James Toomey. The results of the Youth Survey are shared across Governments, NGOs and social commentators to inform the debate around the circumstances of young people in Australia and to support the development of policies, services and programs that have the needs of young people at their core.
Click here to learn more about the 2018 Youth Survey and to read the report.
Related
media releases
Read about what we've been working on, our stance on important social issues and how you make a difference to vulnerable Australians' lives.