Christmas newsletter 2016
Thank you for standing with us to help Australians in need move towards long-term independence. We are so grateful for all the donations we receive – you are making a life-changing difference to many thousands of adults and children across our nation.
In this issue, Margaret and her husband Les share the personal story behind their lasting gift to Mission Australia. We really appreciate their generosity and are inspired by their determination to overcome tragedy and enables us to continue to offer vital services.
Our frontline staff encounter heart-breaking stories every day when they meet families and individuals experiencing homelessness. Your support brings hope and happiness to these children and adults in need. Read how our case worker Kevin helped Mark and his sons find accommodation just before Christmas last year so they could escape homelessness and celebrate together.
Scott, one of our Chaplains, also shares how we can look out and care for people who might otherwise be lonely or forgotten in our local communities at Christmas time.
Lastly, Mission Australia is proud to participate in the Kmart Wishing Tree Appeal, bringing gifts and hope to struggling families this Christmas. Please take part and help to bring a smile to families' faces on Christmas morning.
Thank you again for supporting Australians in need to move towards long-term independence.
With gratitude,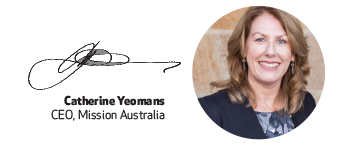 ---
In this
newsletter