Q&A with Timmi – our Larapinta trekking guide extraordinaire
When our team went on the 2018 Larapinta Trek to raise money for a new youth homelessness service in the Northern Territory, Timmi was one of the amazing, energetic guides from Inspired Adventures. Our team loved getting to know him and he did a great job of looking out for everyone and their different fitness levels.
Q: How would you describe yourself in three words?
A: I would describe myself as a sunriser, a life-lover and barefoot-whenever-possible!
Q: Why do you enjoy working in the Northern Territory for a company that raises money for charities?
A: I love seeing people put themselves through something beyond their comfort zone to raise funds and awareness for people in need. I also love the Northern Territory's landscapes, wide open spaces and the amazing people!
I was struggling with a drug addiction before moving to the Territory, and my move saved me from a lifestyle in which I felt trapped and almost lost my life to.
Q: What is your favourite destination in the world and why?
A: As corny as it may sound, I'd have to say the West McDonnell ranges (of Alice Springs)! I moved to the region for six months...five years ago!!
Q: What's the funniest thing you've seen someone pack?
A: My favourite would have to be the couples that have gone shopping just prior to a trip and found items on sale...so husband and wife are dressed identical, and I can't help but think of Kath and Kel from Kath and Kim!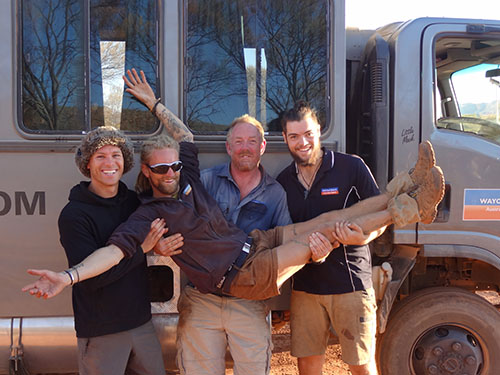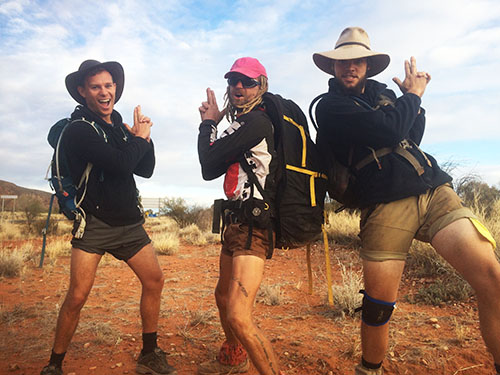 Q: Describe the personality of the group you led in 2018.
A: The group was a predominantly female bunch and initially, I thought they were all very serious. But come the first dinner around the campfire, my abs were more tired than my legs after our huge day of hiking – just due to laughter! Although many of the group were strangers to each other, it was very family orientated. In all my years, I've not seen a group come together on so many levels so quickly.
Q: What are some of your favourite highlights from the adventure?
A: Seeing Suzanne, a youth worker for Mission Australia, reach the summit of Mt Sonder, leading the group for the last part of our more than four-hour slog, in the dark, was one of the highlights of my entire life. I climb mountains in my work and my personal life, but even for me, hiking a mountain by head torch still gets my adrenaline pumping, and still daunts me. I do not know what the equivalent would be for me being as far out of my comfort zone as what the group must have felt, summiting a mountain in the dark after being woken at 1am... but wow!
Q: What would someone find most challenging about the trek?
A: The most challenging part would be signing up! Whilst yes, the hikes are not walks in the park, we hike as a team and start early so we can walk at a safe for all pace, and whilst the winter evenings are quite cold, we have a massive fire and great sleeping bags to keep you warm, and whilst the mornings can be early, we go to bed at a time to make this reasonable. Everything you may think could be too difficult for you, we (the guides) have your back! Making the commitment to sign up --that's the hard part!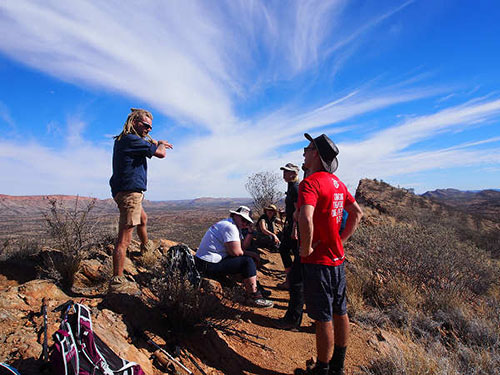 Q: How do you make the trek suitable for different fitness levels?
A: To make the trip suitable for different fitness levels, I have one rule. I don't believe in anyone feeling rushed, so I like to optimise daylight hours. We usually rise about 45 minutes prior to sunrise and have breakfast around the fire as the sun is coming up. It is a magical experience in Central Australia, and it also ensures we break camp soon after the sun is up with all the daylight hours in front of us.
Q: What are your tips for training and getting fit for the adventure?
A: Any moderate activity at all will help... but steps and non-perfect terrain would definitely be an advantage.
Q: What advice would you give to someone interested in the trek?
A: Not sure if Nike will sue me for this, but just do it! The Larapinta is one of the most beautiful regions I've ever encountered in the world, and I've hiked all around this planet! Hiking with a group, spending evenings around the fire, listening to the breeze and falling asleep under the clearest night stars you are ever likely to see, is a week you will never forget! If you can sign yourself up, we will get you there!
Q: You are now a Regular Giver to Mission Australia. What prompted you to start giving?
A: In my life I've had the chance to meet many people, but the passion for Mission Australia that I heard around the campfire from the CEO James, Suzanne and other group members was unlike anything I've ever encountered. It was true, soulful and selfless. My previous addiction to drugs was also a factor and I felt confident that my regular donation to Mission Australia would help people in all sorts of difficult situations across Australia.
Want to support our 2019 Larapinta trek team as they raise money to help vulnerable young people in the Northern Territory?
Donate today
---
In this
newsletter
Latest
news, media & blog

articles

Read about what we've been working on, our stance on important social issues and how you make a difference to vulnerable Australians' lives.