White Christmas recipe
Special thanks to Ruth Murray, one of our loyal supporters, for sharing this delicious, no fuss Christmas recipe – one she's been making for family and friends for over 40 years.
Ingredients
1 cup of full cream milk powder
1 cup of rice bubbles
1 cup of mixed fruit
1 cup of icing sugar
1 block of copha
Method
Combine all ingredients, add melted copha, mix well. Place in slice tray. Place in fridge to set. Store in fridge, cut and use for a delicious snack.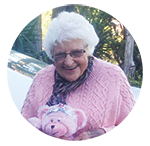 When she's not making White Christmas for her family over the festive period, Ruth is busy creating teddy bears which she generously donates to our Grandparents Raising Grandchildren program. Over 200 lucky children received one of Ruth's teddy bears this year. Thank you Ruth!
Send in your photos
We'd love to see you preparing your festive recipe with your family.
Please email to: This email address is being protected from spambots. You need JavaScript enabled to view it.