A second chance at home: Mick's journey
Like thousands of other Australians, Mick didn't expect to be facing homelessness so late in his life. After a difficult period, Mick had lost everything. Mick wanted to turn his life around, and thanks to our supporters, one of our caseworkers was there to support him on his journey out of homelessness and towards a stable future.
Mick's story: An inspiring tale of resilience
In a world where life can take unexpected turns, Mick's story serves as a reminder that no one is immune to the challenges of homelessness.

Mick worked hard as a landscaper from the age of 18, eventually taking over the small business that employed him, and took pride in being able to provide for his family.

Mick's life took an unexpected turn when he faced a relationship breakdown, coupled with the weight of mental health struggles. Mick lost not only his landscaping business, but his connection with his family too.
With the rising cost-of-living and lack of social and affordable housing, it doesn't take much to tip someone over the edge, and before he knew it, Mick was in a downward spiral of addiction and homelessness and desperately needed help.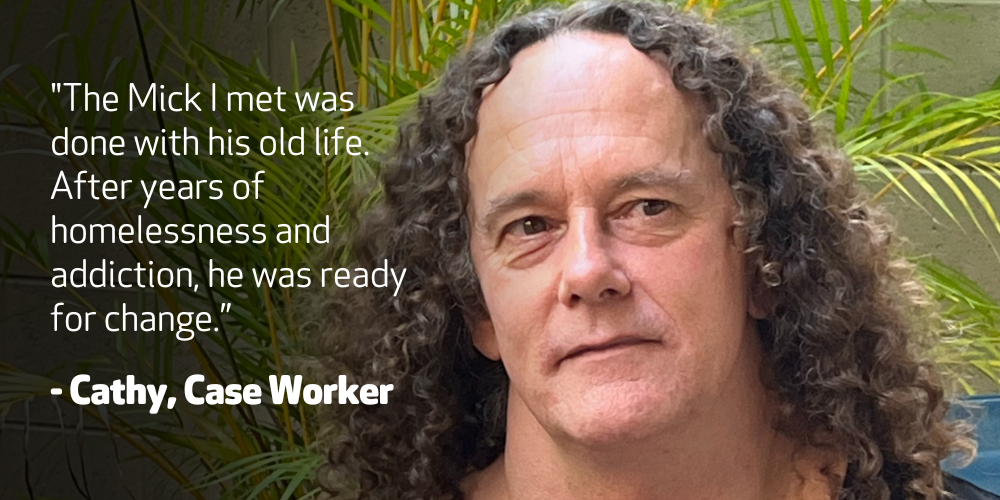 When Mick first became homeless, he didn't realise how long he'd be struggling alone on the streets, or just how unstable and frightening his daily life would become.

Mick didn't smile much. He had lost teeth in an accident and couldn't afford dental care and was also beaten badly, leaving him with many physical and emotional scars. Despite all of this, none of it hurt as much as losing the connection with his family.

For a long time, Mick was embarrassed about his situation. He had no fixed address, no mobile phone. He had nothing – or so he thought – to make anyone proud of him.
Embracing second chances
Amid all the darkness, a flicker of determination ignited within Mick, and he made a pivotal decision to break free from the cycle he was in. He reached out to Cathy, one of our amazing case workers. They'd met before, when Mick had come to the local Mission Australia Centre for a coffee and a chat. He felt Cathy was someone he could trust.
"I'm really going to turn this around now. It is time to change this pattern." - Mick shared.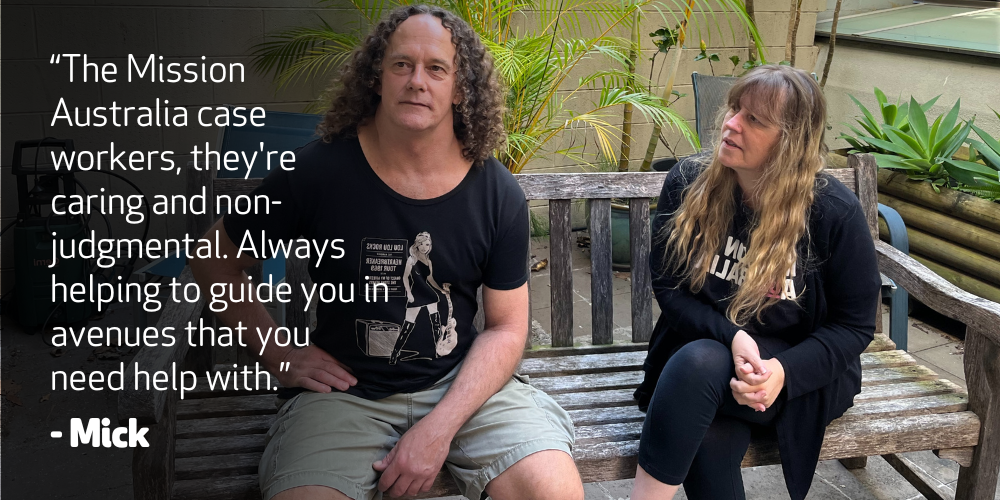 Cathy talked to Mick about what he needed, and he says he felt the power of 'unconditional love' straight away. 
"The Mission Australia case workers, they're caring and non-judgmental. Always helping to guide you in avenues that you need help with. Everything is very positive here. They're good people,"  Mick shared about his first impressions of Mission Australia.
The first thing Mick needed support with was his health. He had a painful arm injury, problems with his heart, and teeth that needed urgent attention.

Cathy helped organise a proper checkup, and surgery for Mick's damaged arm. She also arranged dental care at the Mission Australia Centre.
With Cathy's encouragement, Mick also enrolled in a support group for his alcohol addiction, started counselling, and became a 'regular' at a Mission Australia-run mindfulness program.
"I can see the light and life coming back into Mick." - Cathy
Reconnecting with Mick's loved ones

Mick began to rebuild his life. His resolve led him away from the grip of alcohol and towards a brighter future, and now he can hardly believe how good he feels.

"Right now, is very much a high moment. I'm staying away from alcohol. I'm looking positively towards the future."- Mick.

Cathy says, the most wonderful part has been watching Mick rebuild relationships with his family.

"I've got a phone now that Mission Australia got for me, and I've reconnected with my family." - Mick

It can be extremely hard for someone to reach out for help. But when they do, Mission Australia makes a commitment to work alongside them and help however we can.
The need for our services across Australia is at record high levels right now.
Australia is witnessing a surge in homelessness. With the increased costs of living, we have sadly seen an alarming number of individuals at risk of homelessness and the demand for our services has surged. Yet, as the number of people seeking assistance rises, it becomes more difficult to provide the level of support crucial for those in need.
Your care can be the turning point for another person like Mick. Help another person receive urgent support to find a safe home.
Related
news and stories
Read about what we've been working on, our stance on important social issues and how you make a difference to vulnerable Australians' lives.