Charcoal Lane are cooking through a crisis
Despite extensive lockdowns in Victoria, the Charcoal Lane team have been busy cooking for the community.
Charcoal Lane's head chef Greg Hampton and resident chefs at Charcoal Lane have been working hard to put together 150 meals a day to deliver to community Elders, rough sleepers and other vulnerable people in self-isolation.
"It's great that we can actually help people and feel like we're contributing and trying to keep people happy and well fed and healthy" - Greg Hampton, Charcoal Lane head chef.
After closing to regular diners due to the state's COVID-19 lockdown restrictions, the restaurant looked to its apprentices for suggestions on how it could best support the community during the pandemic.
"The number one concern raised by our trainees in this time was concern for Elders."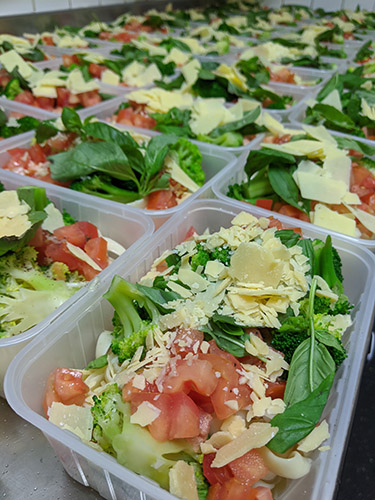 The ready-made meals have been warmly received and allows short social interaction for many Elders and community members in social isolation.
When we arrive with the meals, it is an opportunity for us to connect people to the right health services or encourage them to look after their health. Providing them with a nutritious meal is an important part of ensuring those most at risk are best looked after.
Donate to Mission Australia to support Charcoal Lane during the pandemic.
We are thankful to our community partners who make this initiative possible: Darebin City Council, Victorian Aboriginal Health Service (VAHS), the Aboriginal Community Elders Services (ACES), Yarra City Council's Aboriginal Support Network and cohealth's Billabong BBQ Program, Aboriginal Housing Victoria (AHV) and Melbourne Aboriginal Youth Sport and Recreation Co-operative (MAYSAR).
Related
news and stories
Read about what we've been working on, our stance on important social issues and how you make a difference to vulnerable Australians' lives.