How creativity boosts mental wellbeing in the Northern Territory
Creativity and do-it-yourself projects are great for our mental and physical health, especially for people facing struggles in their day-to-day lives. It can relieve stress, allow us to refocus and give us fulfillment.
Thanks to the assistance from the Northern Territory Department of Health, Mission Australia Residential Rehabilitation Treatment Service* (MARRTS) team helps people overcome addictions through creativity and community projects.
Creativity boosts engagement and happiness
MAARTS Maintenance Coordinator, Chris Lilley, is passionate about upcycling and reusing items. Chris is always looking for ideas and recently came across some leftover wooden pallets that were perfect for making sturdy wooden benches.
Chris was excited to share his idea with the MAARTS team. After the success of past activities like equine therapy he knew MAARTS participants would love the outdoor and hands-on activity.
On a sunny afternoon equipped with paint, hammers and nails donated from the local community, Chris and several MAARTS members got to work.
"We started by building the benches from scrap wood and pallets and then we painted them," Chris explained. "We encourage residents to paint the bench in traditional artwork – the more colourful the better."
Throughout the day, as they built and painted, they exchanged stories and encouraged one another.
"It was a chance for our residents to learn some new skills, share their story and listen to others. Most people find a way to contribute, whether that's drill holes, paint, sand or simply talk." Chris shared, "The group opens up and bond, sometimes we'll have five women yarning and painting which draws a crowd."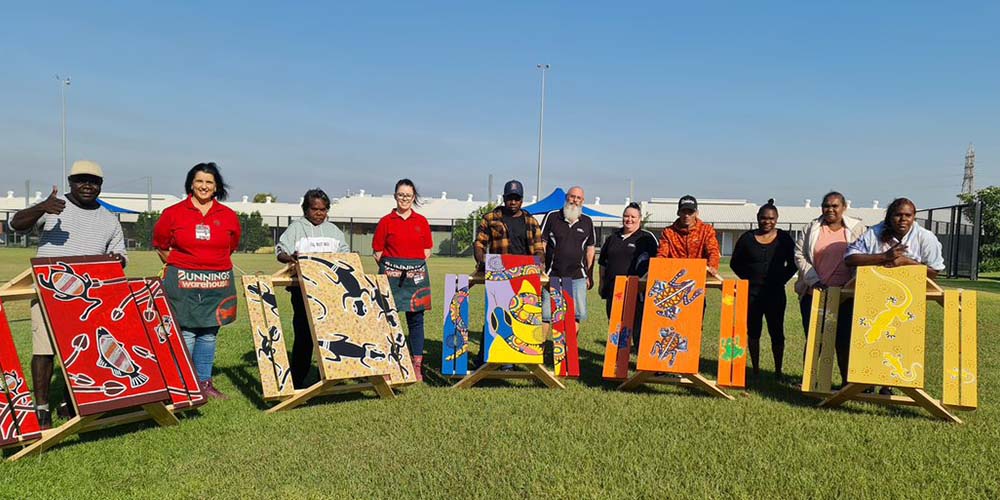 Sharing creativity with others is powerful
The impact of the bench project extends to the entire community. Once a bench is finished MARRT benches have been donated to local churches, early learning centres and five primary schools in Katherine and Darwin.
Chris said. "Giving the benches away provides the chance for the resident to do something for others which is not about money.
"It's about sharing the joy and paying it forward."
The residential treatment service is pushing the limits of what's possible within their centre. We are looking forward to what they achieve next!
Thank you to Bunnings, MMC (Mine Maintenance and Construction) and NTWSS (Northern Territory Wardrobes and Shower Screens) for donating supplies to the project.
*The Mission Australia Residential Rehabilitation Treatment Service (MARRTS) is a 40 bed, 24-hour residential rehabilitation facility for people with alcohol and other drug addictions in the Northern Territory.
Related
news and stories
Read about what we've been working on, our stance on important social issues and how you make a difference to vulnerable Australians' lives.