Helping parents achieve their career goals
Reentering the workforce is hard for many parents, but it's especially difficult for parents with little support or training. ParentsNext in Gippsland aims to help parents achieve their career goals while caring for their families.
While it's common for parents to take time away from work to raise children, reentering the workforce or exploring a career change can feel daunting after a prolonged break. This time of uncertainty can cause people to doubt their capabilities and potential contribution to a workplace, and stall their career progression.
Parents facing hardship or from disadvantaged backgrounds struggle more than others to renter the workforce. Without any resources or support their career options are limited and can further disadvantage their children and families.
Thankfully our ParentsNext program helps parents secure employment and further study once their youngest child goes to school.
ParentsNext helps parents make short-term and long-term goals
Callinda struggled to find a job and was scared she wouldn't be able to provide for her young children. As a single mother, it was hard to find the time to do extra study or to look for new opportunities.
She connected with Tamara from ParentsNext.
Together with the ParentsNext team, Tamara has been helping parents in Gippsland, Victoria secure work during the multiple lockdowns.
"We help parents secure employment by listening to their needs and clarifying what they want," says Tamara. "It's important for anyone starting their job search to have a clear idea of their short term and long-term goals. By knowing what they like and don't like, we can create a plan tailored to meet their lifestyle."
As a long-term goal, Tamara helped Callinda enrol in the local TAFE so she could upskill.
Overcoming learning difficulties, Callinda pushed through and completed her Certificate I and II in General Education. Equipped with new skills and vigour she was ready for a new job.
"I help Callinda apply for a position at the hospital that was advertised online," Tamara said, "I asked if the hospital can allow her to work in between school hours so that she can still parent her children with school drop off and pick up times."
Thanks to Tamara's support, Callinda was successful in her application and will soon start her new job.
Tamara is over the moon for Callinda and has seen her confidence grow, "I have seen big improvements within Callinda's personality, as she will be able to work and earn money to better support herself and her children during these difficult times.
This is massive for Callinda, building her own confidence and self-esteem.Tamara
"We thoroughly feel rewarded when our parents have grown and blossomed over the years when they had faced many barriers prior to commencing ParentsNext Program" Tamara shared.
Mothers pursue their passion thanks to ParentsNext
We aim to help people find what they are passionate about. They may have hidden skills or picked up talents from home to use in their future workplace. By working closely with parents we can provide pathways to help them achieve their dreams and pursue their passion.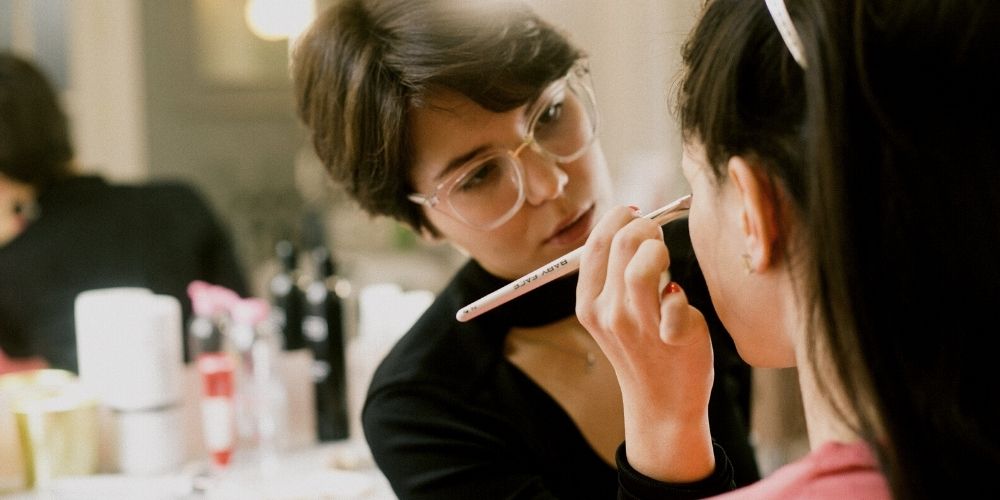 Grace*, a mother of young children always wanted to become a makeup artist, but she struggled with severe social anxiety and hesitated applying makeup on others.
She disclosed her passion for makeup to Mikayla from ParentsNext, who encouraged her to enrol in a makeup course at Gippsland Employment Skills Training GEST.
Grace was nervous, she didn't know if she had the skills or finances to complete the course. Thankfully Mikayla supported her through the enrollment by securing a makeup tutor and financial support.
Since beginning the course, Grace has exceeded her own expectations and attracted praise from her tutor Alarna Bell, a world-renowned makeup artist.
"Grace is by far the most outstanding student in the course in terms of quality of the skills she displays," Alanda shared, "She will have an amazing career ahead of her."
A director of makeup to Miss Universe Australia, Alarna Bell continues to provide opportunities for Grace to grow, "I have asked her to work with me on future events."
Mikayla and the ParentsNext team are thrilled for Grace and are excited to see her career progression.
Funded by the Australian Government, ParentsNext continues to help parents reenter the workforce in Victoria.
*Names have been changed to protect the identity of the people we help.
Related
news and stories
Read about what we've been working on, our stance on important social issues and how you make a difference to vulnerable Australians' lives.