Philanthropy secures the future of rural mental health program
Through the Ivany Foundation, philanthropist Peter Ivany AM and his family have committed to fund Mission Australia's Connections program in Broken Hill for three years, after government backing for the pilot program ran out in June last year.
The former Hoyts CEO is no stranger to success, growing the Australian theatre business to a global brand with over 2,200 theatres operating in 12 countries. At just 43, Peter sold the company while it was thriving, instead opting to divide his time equally between business and helping those in need.
For Peter, giving is something he feels incredibly passionate about and it's a value his whole family shares.
"You can only eat three meals, wear one suit and live in one house," he says. "You get to a point where you are just accumulating wealth and that's never been an objective of mine. It's always been just a tool I can do things with - but every person is driven by different things."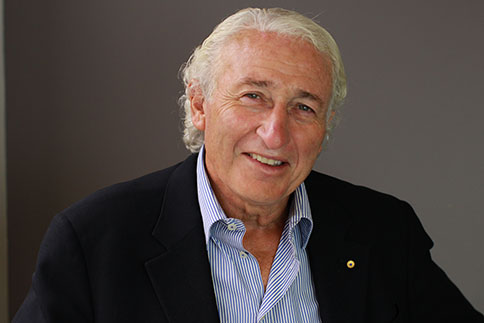 Peter first contributed to Mission Australia in 2013, and was drawn to the organisation because of its work and rich history. "It's an incredible institution that's stood the test of time," he says.
After making regular donations, he was approached by Mission Australia CEO, James Toomey in 2019 about backing a service in danger of closing due to a lack of government funding.
Mission Australia's Connections Program in Broken Hill, NSW links socially isolated people to find friendship and confidence in the community. Run by peer-support workers who have experienced these issues first-hand, the program seeks to support those suffering from mental illness, anxiety, loneliness and isolation, therefore decreasing emergency room admissions and hospital presentations after hours.
In the first six months of being open, visits to the local Emergency Department for mental health support were reduced by 80 per cent. The community also saw a 65 per cent reduction in admissions to the hospital for mental health issues. Overall, this reduced local health district service costs by almost $761,000.
Initially funded as a pilot program by NSW Health, funding was due to expire on 30 June 2019. But Peter's generous gifts over the next three years mean that the service can continue to positively impact those in the community. Knowing that he has the power to change lives is something Peter finds both humbling and motivating.
"I don't know what would have happened to it if I wouldn't have helped fund it, but it's pretty inspiring when you look at what's happened in that community," he says.
Peter will soon visit the Connections program first-hand and meet some of the participants.
"I do like to get that level of involvement with projects, to see actual people and how their lives have improved, what could have happened and what did happen. I've had the chance to see the looks on their faces and that's inspiring enough. I love that," he tells.
Peter also believes you never get poor by giving, so is always encouraging people - especially those with capacity to give more - to pay it forward and help those in need.
"What you help them with in life will be there forever for them. When you can touch anyone's life like that, it's very rewarding," he says. "You've got to find a way to open the door to give everyone a bit of a platform in life, because you've got to launch from somewhere."
Your contribution could offer a crucial lifeline to someone in need. If you'd like the chance to help Australians build better futures for themselves, contact our Partnerships team at This email address is being protected from spambots. You need JavaScript enabled to view it..
Related
news and stories
Read about what we've been working on, our stance on important social issues and how you make a difference to vulnerable Australians' lives.