Tevin is thrilled to be given a chance 
At 22-years-old, Tevin was a bright, fun and dedicated young man who was ready to start in the workforce. Unfortunately, he was struggling to find work.
Tevin lives with hemiplegia. This condition has paralysed his right hand and slightly affects his speech. He performs most of his daily tasks with his left hand and has overcome numerous obstacles to gain independence.
Despite applying for numerous roles, Tevin felt people judged his condition and underestimated his potential and capabilities.
Tevin knew that he would be an amazing employee if given the chance.
When the COVID-19 pandemic occurred, Tevin was still looking for employment opportunities. Thankfully, he connected with our Disability Employment Services (DES) team in Tasmania.
Our DES team, with funding from the Federal Government, helps people with disability, injury or a health condition find a job and work towards achieving their career goals. The DES team provides ongoing support and help people transition into their roles.
Our team listened to Tevin's goals and ambitions for his career. They noted that he had recently applied for a role at an insurance company.
After several phone calls and a visit to the company, Tevin was offered an internship within the IT department. He was thrilled to be given a chance and to apply his knowledge in the workplace. He spent eight weeks with IT and was excited at the possibility of continuing at the company in full-time employment.
I was not sure it was ever going to happen, so I'm very excited.Tevin
Sadly, there was no job offer at the end of his internship.
Undeterred, Tevin did not let his window of opportunity close. Working with Tevin, our teams approached the business's People and Culture Manager. They expressed they would love to have him on board in a new team on a temporary contract for a trial period.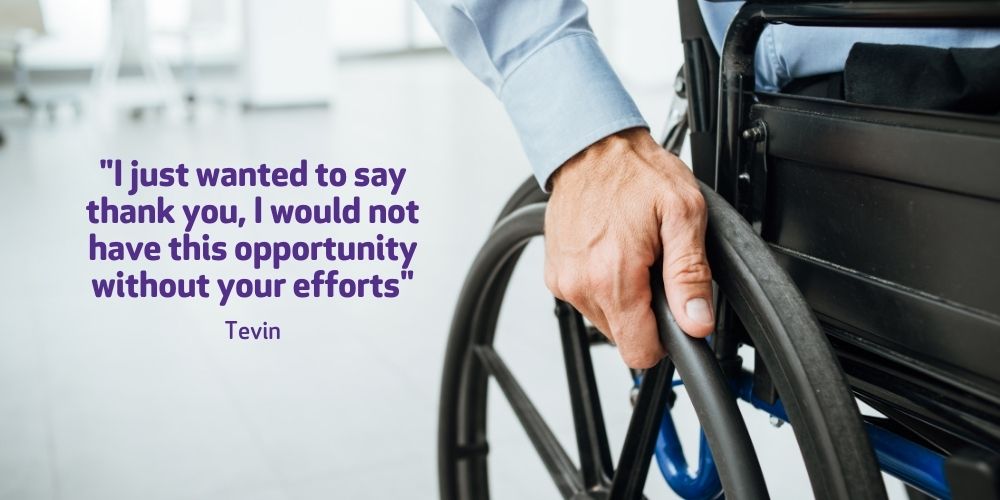 Tevin went on to receive a full-time contract and has been working there ever since. Recently, he was recognised in the company's newsletters for his speed, efficiency and attention to detail and is now an integral part of their team.
I very much appreciate your help in allowing me to have this chance.Tevin
We are so glad Tevin has improved his self-worth, feels respected and is genuinely very happy where he is working. He is excited about his employment and is looking forward to progressing in his career.
Related
news and stories
Read about what we've been working on, our stance on important social issues and how you make a difference to vulnerable Australians' lives.