Innovative housing response for women experiencing domestic and family violence: The Priority Project
Mission Australia is excited to be launching a new service that pilots an innovative solution to providing safe, secure, independent and affordable housing for women and children who experience domestic and family violence (DFV).

Over the last few years, people from the community services sector, business and government and people with lived experience have come together, convened by the Constellation Projecti, to co-develop a solution for how to connect landlords who wish to provide affordable housing with the women and children who desperately need it.

The Priority Project pilot will establish a private rentals property register that prioritises safe, affordable, accessible, appropriate and secure homes for women and children experiencing DFV in Queensland.
Domestic and family violence and homelessness in Queensland
DFV remains a leading driver of homelessness and housing instability across Australia. In Queensland, one in three women experiences physical violence and one in five women experiences sexual violence.ii

For women and children who experience DFV, the lack of available housing options makes it incredibly hard to leave an abusive situation. The current housing system is also not designed to provide long-term housing solutions for women and children who experience DFV.

Over the last six years, homelessness in Queensland has risen by 22%, compared to an 8% increase across other states.ii The cost of rental units has similarly risen at a rate faster than in any other state.

The system primarily focuses on crisis responses. There is a significant shortage of medium to long-term housing options available for women and children," says Marion Bennett, Mission Australia's Executive for Practice, Evidence and Impact.
More about the priority project
The Priority Project plans to help women and children fleeing DFV by:
Reducing incidences where a woman returns to a violent home
Helping them avoid homelessness
Finding accommodation and services to support them more easily and provide them with more control, choice and confidence
Helping them settle into a new community with increased support and security
Providing opportunities to possibly access rental properties at more affordable rates – thanks to owners
Improving mental and physical health.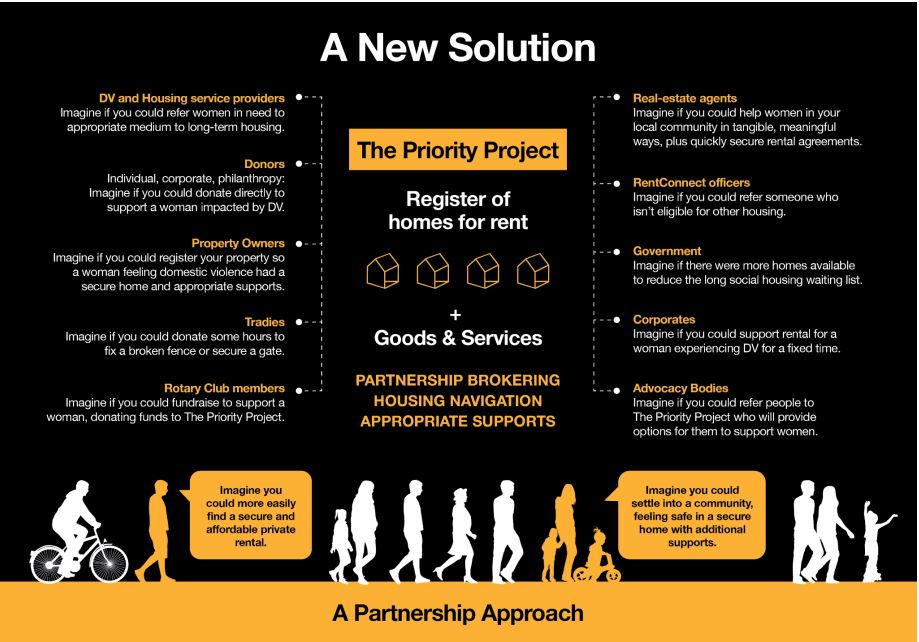 The concept was developed through a 'social lab', where the Constellation Project convened expertise from businesses like PwC, Solutions Property Management and other real estate agents, the community services sector including the Salvation Army and Mission Australia, researchers, government experts and people with lived experience of homelessness and DFV.
"Mission Australia is a founding member of Constellation because we believe that everyone has a role to play in solving homelessness, and we need to be innovative in approaching such a wicked problem. We look forward to trialing this new model." - Ms Bennett.
The Queensland trial project will commence in July this year and last for one and a half years. Mission Australia is looking for funding to extend the trial to a site in another site, to enable further learnings. After evaluation, there is the possibility to scale the model to become a permanent part of Australia's housing landscape. This pilot project has been made possible through the support of ANZ.

Learn more about The Priority Project.

i The Constellation Project is a cross-sector collaboration launched in 2018, working to end homelessness
ii QCOSS A blueprint to tackle Queensland's housing crisis 2023 

Related
news and stories
Read about what we've been working on, our stance on important social issues and how you make a difference to vulnerable Australians' lives.