Jenny's story: overcoming homelessness and finding hope
Weighed down by abuse and trauma, Jenny* felt failure was all she deserved. Read how, thanks to our supporters and staff, Jenny regained confidence to turn her situation around and step towards a better life.
Domestic and family violence (DFV) remains the leading cause of homelessness in Australia. Many people escaping abusive relationships don't have support networks to turn to for help. 
Jenny's story: hitting a dead end
As a single mother to Michael* (11) and Sora* (8), Jenny wanted to give her children the best. She had endured and escaped an abusive relationship and was ready to start a new life, but Jenny was struggling with debt and emotional trauma.

During the pandemic she lost her job and could no longer afford the small apartment she was renting. It felt like she had hit rock bottom.
"I didn't know if there was a way out for me and the kids. Everything I tried felt like a dead end," - Jenny .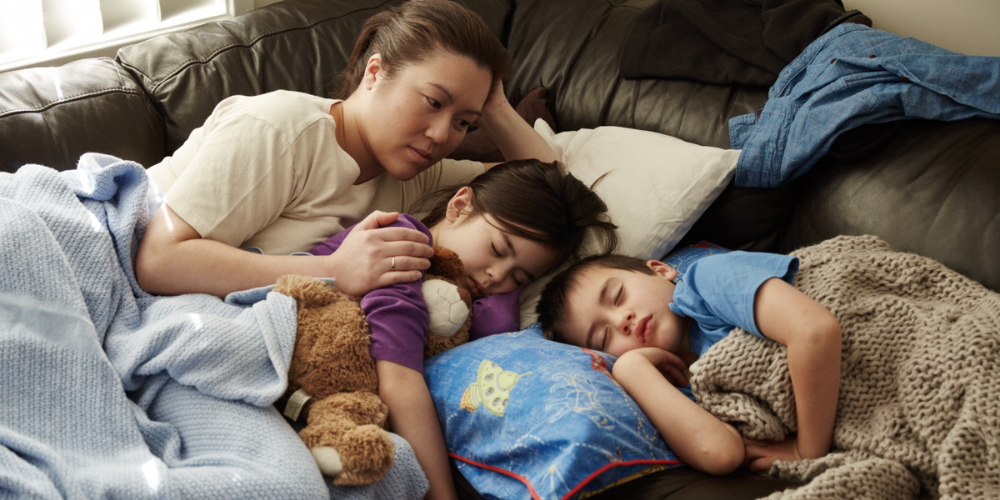 When Jenny reached out to us, she was also grieving the death of someone close to her. The news left her emotionally and mentally drained. One setback after the other, Jenny had lost all confidence in herself and was starting to feel hopeless about her future.
Four simple words changed Jenny's life forever
Thankfully, Jenny reached out to a nearby Mission Australia Centre for help. For the first time in a while, Jenny and her children had warm meals, essential items and weekly groceries to help alleviate the family's financial strain.

Jenny also attended regular counselling sessions with a trusted case worker. It was the first time someone encouraged Jenny not to blame herself.

The abuse? Loss of a loved one? Financial ruin? Homelessness?

"It's not your fault."

Slowly, Jenny stopped feeling shame. The weight of guilt she had been carrying for years finally began to lighten. She regained hope and found the strength to start turning her life around.

Jenny and her children were welcomed into a temporary apartment and eventually we helped them move into a safe new home close to the children's school.
"For the first time in years, I felt positive about life and extremely hopeful for the future. Thank you for giving my family a fresh start." - Jenny 
With a smile on her face and joy in her eyes, today Jenny is a woman full of confidence and newfound hope for the days ahead.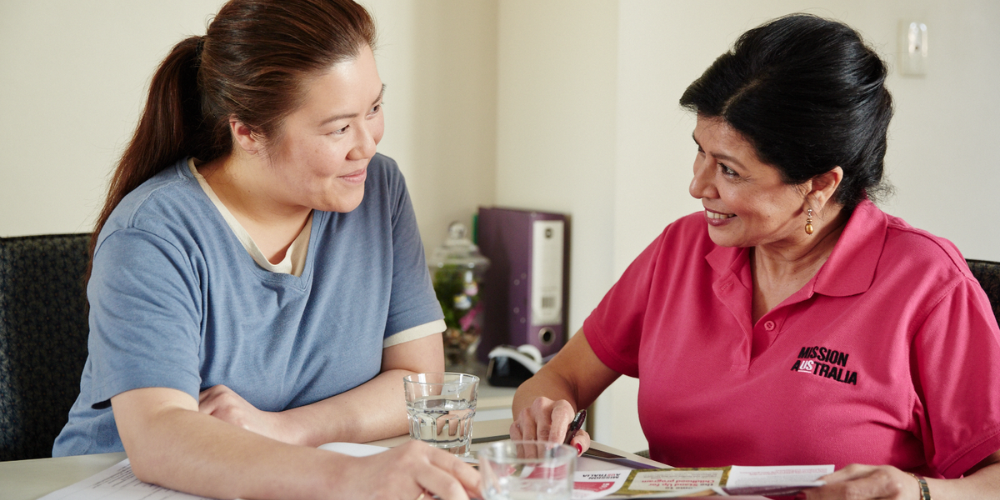 Creating ripples of change 
When no one believed in a better future for Jenny – not even herself—our supporters and staff stood alongside her until she had the confidence and means to stand for herself.

Recently, with help from our career counsellor, Jenny enrolled into a TAFE course. She hopes to become a lawyer one day and help others in situations like hers.

Today, someone like Jenny will turn their situation around for the better thanks to someone like you. And the best part is that your impact doesn't stop with Jenny. 

Changing Jenny's life had a direct impact on her two beautiful children, Michael and Sora, who now have a safe home where they can learn, grow and thrive. The ripples of change in this family's lives will continue to impact others around them because when we see one life change, we feel inspired that our lives can change too.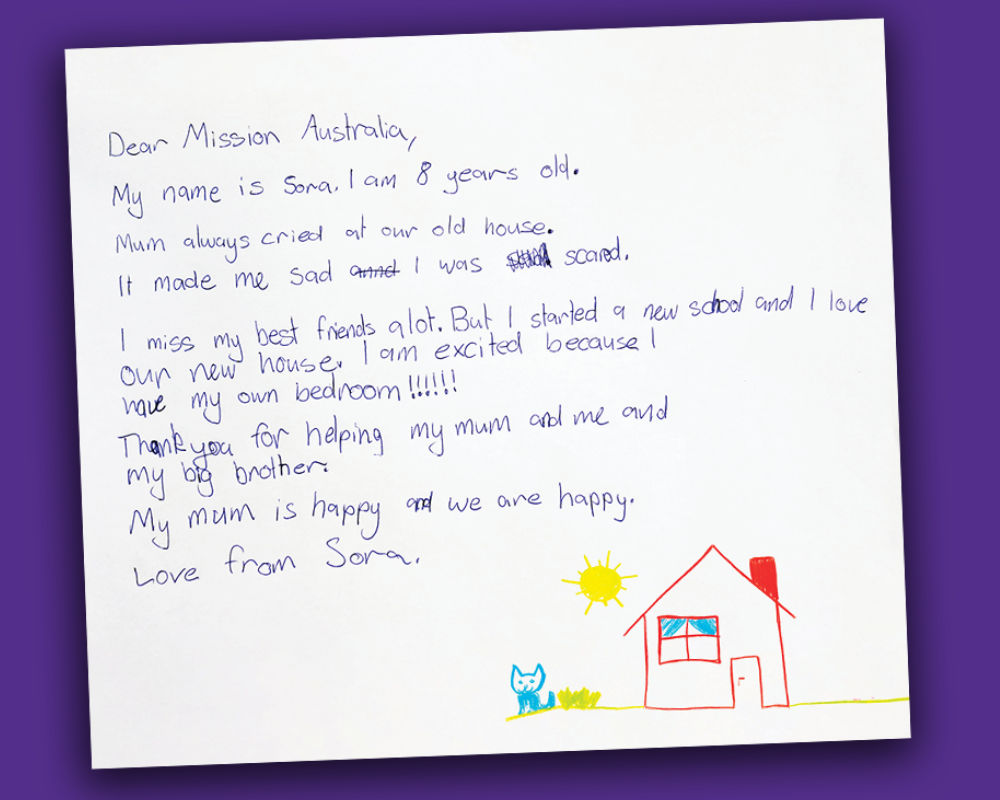 Domestic and family violence is one of the leading causes of homelessness in Australia

DFV remains a leading contributor to homelessness in Australia, especially among women and children who are forced to leave their unsafe homes, often with nowhere to go.
In 2019-20, DFV was the main reason 82,300 people asked for help from specialist homelessness services like Mission Australia.1

With nowhere to turn, many DFV victims experience hidden homelessness in Australia.

In Australia however, only 6% of people who are homeless will be 'visible'2. The vast majority experience 'hidden homelessness', moving between the homes of family members or relying on temporary refuges, cheap motels or caravans.

It's not always an easy journey, but thanks to supporters like you, vulnerable families can find the guidance and support they otherwise wouldn't have.
The Nepean Blue Mountains Family Homelessness and Housing Support at our Kingswood Mission Australia Centre service provides accommodation, support and case management to vulnerable families who would otherwise be homeless. Thanks to funding from our supporters, we work with the families to help them secure safe, affordable and secure accommodation, and develop the skills to live independently and well.

Know someone affected by domestic and family violence?
If you are experiencing abuse or violence it is not your fault. There are support services that can help you. If your life is in danger, call 000. For 24/7 domestic violence counselling call the National Sexual Assault, Family & Domestic Violence Counselling Line on 1800 RESPECT (1800 737 732).

1 Australian Institute of Health and Welfare (2021), Specialist homelessness services annual report 2020–21
2 ABS (2021) Estimating homelessness: Census
*Names and images have been changed to protect the identities of the people we help.
Related
news and stories
Read about what we've been working on, our stance on important social issues and how you make a difference to vulnerable Australians' lives.