What it's like to be homeless and alone.
Years of living on Sydney's streets took a hefty toll on Bruno's health and wellbeing. Estranged from his family and friends, the late Bruno relied on the team at Missionbeat, who supported him till his final moments.
Bruno's dream was to become a teacher but when his mental health declined – so did his dreams. Bruno's relationship with friends and family began to deteriorate too. Unsure of how to help, his family distanced themselves over time. Eventually, Bruno stopped hearing from them.
Alone and overwhelmed Bruno spent years sleeping on a park bench, anxious and afraid.
Homelessness can happen to anyone.
Mental illness and the experience of being homeless are often interrelated, increasing an individual's vulnerability, ability to attain employment or sustain their tenancy.
For many, changes in their mental health can affect their capacity to live independently and affect their accessibility to affordable housing.
Did you know, in 2020–21, around 88,200 people who received help from a specialist homelessness service were also facing a mental health issue? 1
Learn more about the common causes of homelessness in Australia.
Bruno finally felt safe and protected.
When our Missionbeat team met Bruno, he was 72 years old, sleeping in a city park and very unwell.
Missionbeat is our mobile outreach service that cares for rough sleepers on the streets of Sydney. Recognised by the iconic Missionbeat van, our teams provide essential support, information and care to help people move from homelessness to housing.
After years of being pushed aside and overlooked he was hesitant to accept help from others.
Over time, Missionbeat gained Bruno's trust. When he was ready, we worked with local services to provide him with food, housing, support and care in his final days.
Our team listened to his story and the complexities that brought Bruno to the streets and hoped to one day reunite with his family once again.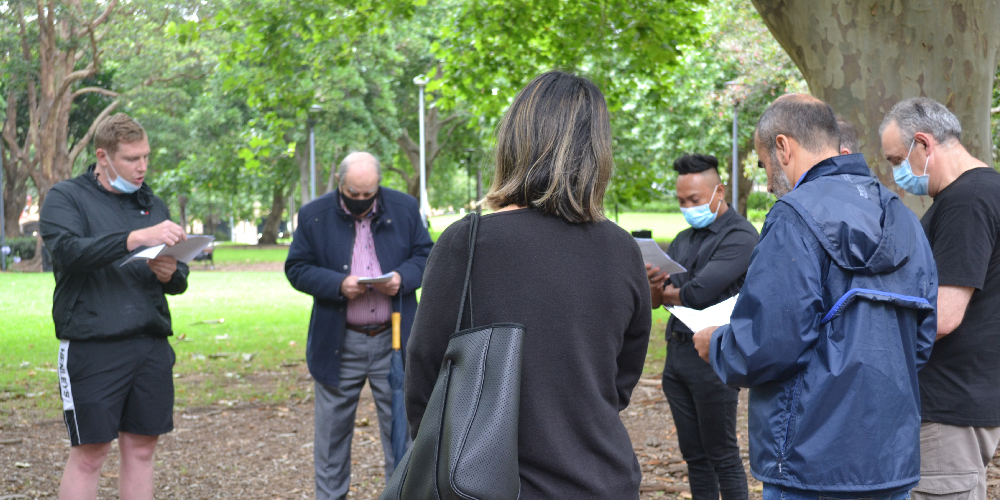 Noone deserves to die alone
A new home was wonderful for Bruno, but he required specialised medical care.
Years of homelessness had badly impacted him physically and mentally and Bruno was soon admitted to hospital and finally, palliative care.
Throughout his ordeal, Missionbeat continued to remain by his side, being the family he had lost.
When it came time to say goodbye, numerous team members gathered in the local park, where they first met Bruno. Laying his ashes in the place which was his home for countless years, they shared stories and memories together.
Also present was Bruno's cousin, the only relative located after his death.
Finally, Bruno was at peace.
Preventing homelessness
Our goal is to end homelessness and ensure people and communities in need can thrive. Thanks to our compassionate supporters, we provide preventative services to help vulnerable Australians. .
You can make a difference and help more people like Bruno face challenges and avoid life on the streets before it's too late.
1 "Australian Institute of Health and Welfare (2021), Specialist homelessness services annual report 2020–21
Related
news and stories
Read about what we've been working on, our stance on important social issues and how you make a difference to vulnerable Australians' lives.