Why are so many Australian children homeless?
Childhood is a critical time, affecting our health, development, and setting the foundations for the rest of our lives.
Sadly, around 19,400 children aged 0-14 are homeless in Australia.1 During a time when safety and stability are most important, some children are forced to 'couch surf', live in overcrowded dwellings or sleep in a car.
Why are children in Australia homeless?
Homelessness is not a choice for children or their families. In Australia, in 2021-22, over half of (51% or 136,400 people) receiving specialist homelessness services accessed these services for interpersonal reasons such as domestic and family violence or family breakdown.2
Domestic and family violence is a major cause of homelessness. Without access to emergency accommodation or support networks, vulnerable parents and their children often have nowhere else to go in times of crisis.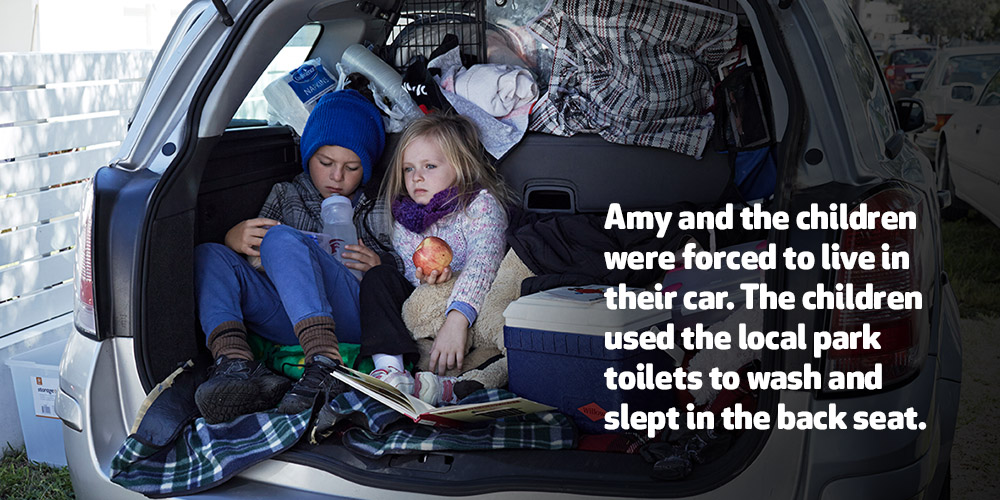 When Amy and her three children fled their abusive home, the family moved into a cheap rental property. But when the property was sold, Amy could no longer afford the rent and the family was evicted.
With nowhere else to go, Amy and the children were forced to live in their car. The children used the local park toilets to wash and slept in the back seat.
The children became anxious and depressed with no room to play or sleep properly. They had frequent colds, and Lily and Aiden regularly missed school. It was upsetting not to be able to see their friends and they fell behind in their class work.
Thankfully, Amy was put in contact with Mission Australia, and we found a home for her and her children. We also linked Amy to studies that would later help her find a job and helped settle the children into a new school. With our support, Amy is now on the path to independence and her children are thriving in a stable and secure home life.
Read more about our homelessness and housing services.
How does homelessness impact children?
Homelessness – the constant moving from place to place, without a permanent home – can impact children well into their adult lives. The experiences of homelessness are varied and can include 'couch surfing' with distant relatives or friends, relying on crisis accommodation, shelters or cheap motels. Or worst of all, sleeping in a car with no toilet, no place to wash and no place to cook.
At an early age, children are particularly vulnerable to the impacts of homelessness.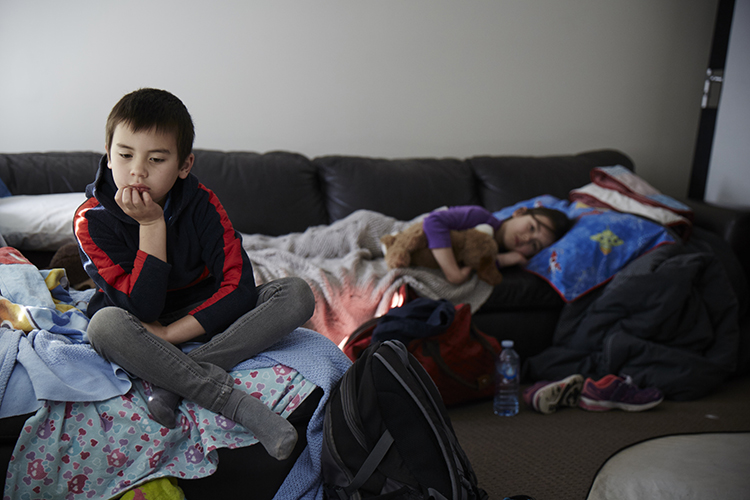 Some of the detrimental impacts of homelessness on children:
Emotional strain: Without a safe home, other areas of a child's life can be dramatically disrupted. Children who are homeless are often forced to move away from their school and friends, leave behind much-loved pets and forego hobbies and social activities. Disruptions to their daily routines can have a negative impact on children.
Developmental delays: Tragically, research shows that children experiencing homelessness have poorer physical and mental health and lower educational outcomes than their peers. Without continued schooling, children can fall behind in their learning, experience mental health strain and have lower self-esteem.
Adverse health effects: Children and families without a home are also likely to skip meals and experience food insecurity or nutritional deficiencies.
At Mission Australia, we believe everyone should have access to safe and secure housing – when a child's life is disrupted by no fault of their own, your support can help us provide them with a safe place to call home.
Help end homelessness
When a child's life is disrupted by no fault of their own, a little extra support can ensure they have a brighter future. You can help children experiencing homelessness by making a donation today
Donate today
2 AIHW (2022): Specialist homelessness services annual report 2021–22. https://www.aihw.gov.au/reports/homelessness-services/specialist-homelessness-services-annual-report
Related
news and stories
Read about what we've been working on, our stance on important social issues and how you make a difference to vulnerable Australians' lives.