Dennis' story: Finding a safe space to share his struggles
Overcoming a substance dependency can be a long and bumpy journey. Partnering with local Elders our team creates a safe space for those impacted by grief, loss, alcohol and other drugs to share their struggles.
Thanks to the initiative and our partnership with the Binjari Community Aboriginal Corporation (BCAC) fathers like Dennis can find the support they need to improve their wellbeing, spirit and find healing.
From shame to hope
Growing up, Dennis' family always had alcohol around the house. However, as he got older, Dennis began to drink more frequently. Deep down he knew alcohol was impacting his health, wellbeing and relationships with his family.
Dennis tried to stop, but temptation was always around the corner. Filled with shame he hid his addiction from others. He felt powerless and quitting began to feel impossible.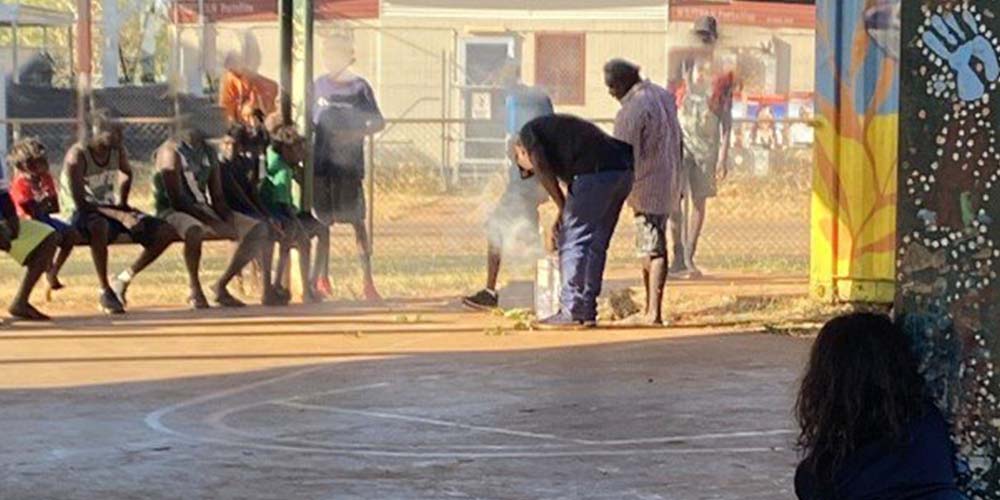 Dennis was walking with his young son when he saw a Smoking and Healing ceremony gathered on the local basketball court. Led by the Binjari Elders, the ceremony invited community leaders, women, men, and children to share stories about the impact of alcohol and other drugs and where to find help.
Dennis walked over and watched from the sidelines. Spotted by the group, father and son were invited to join and listen to the discussion. Dennis was amazed that others were going through similar situations and was struck by the acceptance and kindness shown by those listening.
Hearing others were going through the same struggles helped Dennis feel less alone and hopeful for his own situation. Knowing he had community support around him, Dennis took a deep breath and shared his story for the first time.
"This was the first time I even spoke about my challenges with alcohol out loud with family and community." - Dennis
It was a big step for Dennis. Admitting he had an issue and needed help was tough, but he knew it was the first step to recovery. Immediately he felt relief. The group listened without judgement and reassured him they understood and were there to support him though his struggles.
Addiction to alcohol and other drugs can be difficult to break without the right support. With a range of residential and non-residential programs, Mission Australia takes a holistic approach to help individuals break free from dependencies and achieve their life goals.
Learn more about how we help people struggling with addiction.
Names have been changed to protect the identity of the people we help.
Related
news and stories
Read about what we've been working on, our stance on important social issues and how you make a difference to vulnerable Australians' lives.