Supporting older Australians: vaccine roll-out at aged care services
Older Australians feel safe and secure after receiving the COVID-19 vaccine at Charles Chamber Court.
Charles Chambers Court is our aged care service in Surry Hills, NSW. The facility provides medical care, accommodation, and support services to 60 men and women who are homeless or at risk of homelessness.
As part of the national priority roll-out, aged care and disability care residents were some of the first to receive the vaccine. All our aged care facilities, including Benjamin Short Grove and Annie Green Court, will be completing the vaccination program in June.
The COVID-19 vaccine will ensure vulnerable men and women will be safe and secure this winter.
John from Charles Chamber Court was grateful to receive the vaccine. "I feel great, it didn't hurt at all," John shared. John has been at Charles Chamber Court after living alone when his partner left.
Staff at Charles Chamber Court work hard to build a sense of trust with residents to encourage them to receive the vaccine.
We ensured our residents had all the information they needed to feel safe and confident to make their decision. "We organised information sessions and talked them through the process," Ritesh shared. Ritesh is a team member and nurse at Charles Chamber Court who assisted with the vaccine roll-out.
It's great to see they trust us, and many have agreed to participate. Ritesh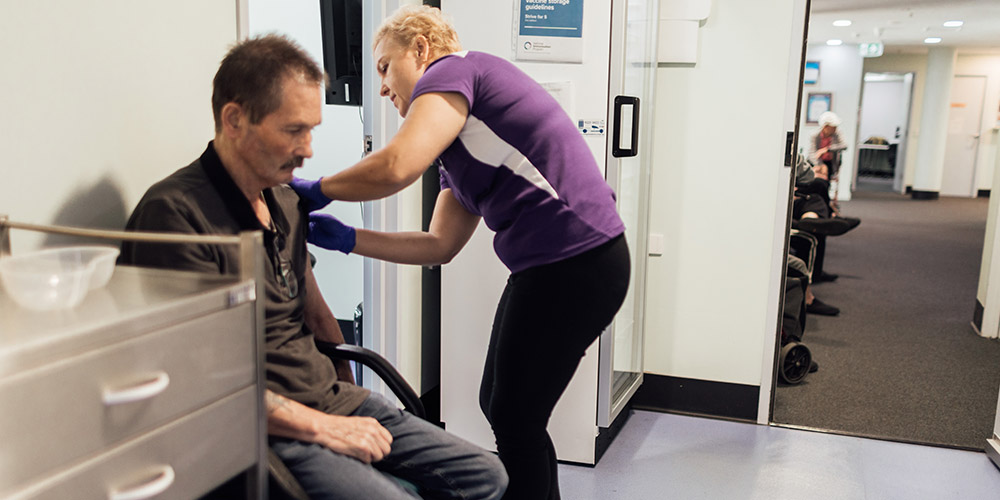 Our elderly residents were kept safe throughout the pandemic.
Last year was a challenge for residents who faced increased changes to their daily lives. Being among those at greatest risk of COVID-19, many men and women were unable to leave the facilities for a period. Thankfully, we were able to support residents to adhere to guidelines and together we prevented outbreaks in the aged care facilities.
Older men and women are grateful for the support they receive throughout the pandemic and are excited to resume their daily activities like drawing, daily exercises and social activities.
Sadly, not all older Australians can access aged care facilities.
Funded by the Federal Government, our three aged care facilities provide a home for older people with complex needs – but there is demand for many more facilities like them. The number of people aged over 55 who are reaching out for assistance from specialist homelessness services continues to grow and there are not enough resources to help them.
Related
news and stories
Read about what we've been working on, our stance on important social issues and how you make a difference to vulnerable Australians' lives.