How we are funded
Mission Australia is able to stand alongside people in need thanks to a range of funding partners, including government, corporate partners, trusts and foundations and individual supporters.
Government funding
The majority of Mission Australia's services receive government funding, and in some cases from a combination of local, state and federal bodies.We engage in rigorous and competitive tender processes to run programs on behalf of government and benefit communities. The services are run like small businesses, with profit and loss statements submitted to the funding body.
However, government funds do not cover all of our services, nor the back-office roles that support our community workers and enable us to plan ahead and stand up for vulnerable Australians. This is why we value the strong and continuing support provided by generous members of the community and corporate sector.
Corporate partners and Trusts and Foundations
Our partnerships with philanthropists are essential to the work of Mission Australia. Our partners include individuals, businesses, private and corporate trusts and foundations and people who have left a bequest in their will. Our partners invest in services across Australia, fund research, and help us to pilot new programs.
Mission Australia works side by side with our corporate partners, creating multi-layered, strategic relationships. Our corporate partners and their employees give their time, money, expertise and energy.
Learn more about our Corporate Partnerships
Mission Australia also enjoys strong support from trusts and foundations, including the Sir David Martin Foundation. By working with us, our partners have the opportunity to bring about positive change in local communities and across the nation.
Community support
Thousands of generous individuals provide vital support to the work of Mission Australia through regular monthly gifts, donating to our appeals, one-off gifts and support for community fundraising events.We thank each and every one of them.  We are committed to stewardship of the gifts we receive and are always looking to ensure our partner's contributions- financial or otherwise – make the maximum impact.
Learn more about how you can support Mission Australia
---
Where does the money go?
Mission Australia works hard to ensure that we make the most of every dollar we receive – be it from government, individual supporters, corporate partners or philanthropic foundations. The funding required for specific Mission Australia services is determined at the beginning of each financial year. Surpluses in any part of our organisation are put into services with limited funds or are held in trust to ensure the program's longevity.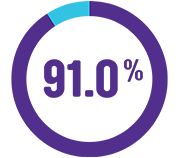 Mission Australia's structure ensures we don't rely on a single income source and can add value to government-funded services by making the best use of our existing resources, knowledge and partnerships. By prudently managing costs and providing operational support from a central National Office, we are able to maximise the funds that go directly towards helping people in need.
In 2023, 91.0% of Mission Australia's income went towards delivering services that support Australians in need to move towards independence.
For more detail on how we use our funds, read our Annual and Financial Reports.
Want to learn more?
Contact us for more information.
Latest
news, media & blog

articles

Read about what we've been working on, our stance on important social issues and how you make a difference to vulnerable Australians' lives.