Mission Australia releases Annual Report 2020
During a year blighted by drought, bushfires, floods and COVID-19, we are grateful for the exceptional generosity of our supporters. Together with our committed supporters, staff and volunteers, we helped 167,268 Australians on their journey towards independence in 2019-20.
Released today, our Annual Report 2020 celebrates key milestones and achievements over the year.
Highlights for the year:
This year we celebrate the 50th anniversary of our Miller Child and Family Centre in south-west Sydney. Today, the centre continues to address the risk of homelessness, provide early intervention support and access to employment opportunities for disadvantaged families in the community.

We launched Missionbeat NT, thanks to funds raised through two Larapinta Treks. The outreach service engages young people at risk of homelessness or affected by drugs and alcohol in and around Darwin, connecting them with support services.

Under the NSW Government's innovative Vested Assets Program, we celebrated the opening of a newly completed affordable housing complex in Kingswood. The new studio apartments forms part of our commitment to provide safe homes for people in need.

Building on our Founding Purpose, we launched a new organisational vision: an Australia where all of us have a safe home and can thrive. We also introduced a bold new goal of ending homelessness and ensuring people and communities in need can thrive.

We delivered our 18th annual Youth Survey results. Based on survey responses from over 25,000 young people, the findings revealed that the top three issues identified by young people were mental health, the environment and equity and discrimination.

Throughout the year, we used our research findings, policy projects and publications to advocate for people in need. We provided various submissions and reports to Commonwealth, State and Territory Governments on issues related to homelessness and housing.

A new client information system was introduced across our Specialist Homelessness Services this year to provide our staff with industry-leading tools and technology.

Although volunteering opportunities were somewhat restricted by the pandemic, over 1,200 volunteers selflessly contributed their services and time to Mission Australia through innovative ways.
Together, we helped support: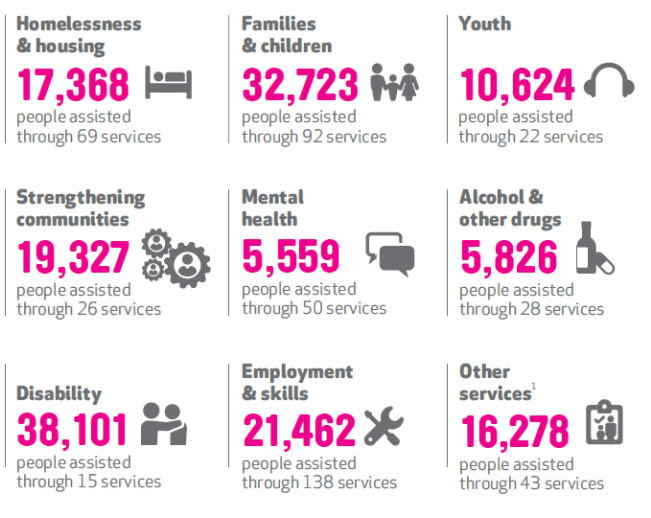 Download Annual Report 2020 infographic
Mission Australia continues to be a responsible steward of the funds entrusted to us, with 88% of our income invested straight back into our programs and services in 2019-20.
With the support of our donors, funders and partners, we look forward to another year of striving to create real and lasting change for individuals, families and communities across our nation. We are grateful for your support last year and we thank you for your continued generosity into the new year.
Related
media releases
Read about what we've been working on, our stance on important social issues and how you make a difference to vulnerable Australians' lives.