Transient treasure
This is Darren. He's an award-winning Sydney artist, but probably not one you've heard of before.
One of Darren's favourite works was an installation he named Transient Treasures. It featured a series of photographs of ancient archaeological items, displayed in a small corridor.
The deliberately understated installation is deeply symbolic for Darren, who spent two and a half years homeless on the street a couple of years ago.
It was all about that transient space," Darren explains. "In the same way that I was precious and useful at a time and then found myself transient on the street, I found these things that were made and were treasured once and seen as precious, but had been lost and found themselves in between, transient.
"So when I did this installation, I gave back some of their treasure and beauty."
One of the photographed items – a 20,000-year-old Aboriginal stone tool known as a Bondi point – holds special significance for Darren. It's special not only because he's a proud Wiradjuri man, but because he found it, and because it was the catalyst for Darren turning his life around.
Life took some hard turns for Darren a few years earlier. The biggest of these was the death of his father, which was compounded by instability at work and tension in his relationship with the mother of his third child.
The combined stress and grief pushed Darren to drugs.
"Things just fell apart," Darren recalls. "I just broke, and I didn't care anymore."
Desperate to keep their young son safe, Darren's partner asked him to leave, and he ended up on the street.
The brutality of this new life saw Darren's drug use spiral.
"I had guns pulled on me. I was tied up and raped.
After a while you don't know if you're on the street because you're on drugs, or if you're on drugs because you're on the street. You've got to numb yourself out somehow, you've got to deal with it however you can.
Darren's lifeline eventually presented itself in the most unlikely of places.
Sifting through some garden pebbles for cigarette butts, he came across a strangely shaped rock. He picked it up, noting its striking symmetry, its chiselled underside and its smooth, rounded top. Having grown up with a keen interest in archaeology and a strong knowledge of his culture, he knew immediately that he was holding a tool that his Aboriginal ancestors had held and used millennia ago.
"In that moment, it all just hit me. I said to myself, 'That's it, I'm going to give it all up.'"
It took Darren just 48 hours to detox completely from the drugs that had a stranglehold over his life for the past two and a half years. He's never turned back to them since.
His determination to make something of his life led him to Common Ground Sydney, an integrated affordable housing and support hub operated by Mission Australia Housing for people who are homeless and disadvantaged.
He quickly formed a strong relationship with Josh, a Mission Australia case manager based at Common Ground, who he said he felt respected by and could talk honestly with. Darren says Josh's support has been fundamental to him dealing with the dark things from his past and moving forward with his life.
Darren started knocking on doors, and doors started opening for him.
A talented artist, he joined an art program at Eora TAFE, just a stone's throw from where he grew up on The Block in Redfern. He excelled, and was encouraged to apply for the University of Sydney's Cadigal program, which gives special opportunities to Aboriginal and Torres Strait Islander people to study.
Today, Darren's completing a double degree in Arts and Archaeology. His grades place him in the top five per cent of students at his university, and he's been told he's within the top handful of Indigenous students across all universities around the country.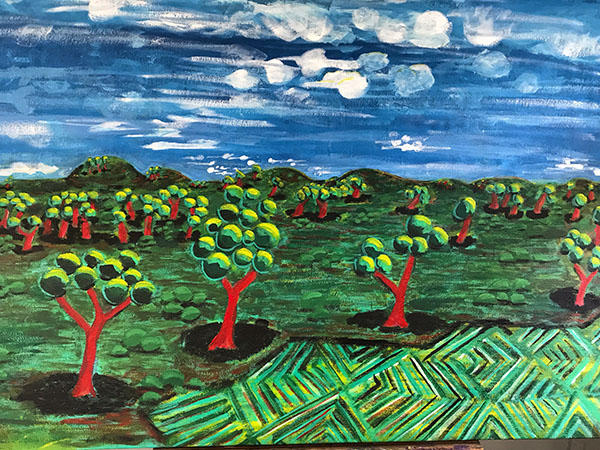 In addition to selling his art, he delivers pamphlets in letterboxes for a regular income, and recently started a job with the Royal Botanic Garden Sydney where he leads educational tours, enriched by his knowledge of the native flora and fauna.
He was recently approved for a private rental, completing his transition from homelessness to independence. His oldest son, who he lost contact with while he was homeless, is helping him move into his new place.
"I feel like I'm getting there," he says. "That's why I'm moving out. I want to hand this place over to someone who could do with the help like I did.
"It's been a wonderful journey, and I'll forever sing the praises of this place. I really believe in what Mission Australia and Common Ground are doing.
"It's a shelter, a sanctuary, a helping hand. It's good for people."
While his new life continues to blossom before his eyes, Darren is refusing to get ahead of himself.
"You do doubt yourself sometimes. You think this is all going to stuff up, because it always has. But I'm not going to sabotage myself. It's easy to have no responsibility. But I've just got to stay on track, got to keep it up.
"The dream's alive."
Independence is precious
Do you want to help people like Darren? Donate today or consider leaving a gift in your Will. Your generosity funds our vital programs and services that help vulnerable Australians take steps towards lives of independence.
Donate today
    or    
Leave a gift
Latest
news, media & blog

articles

Read about what we've been working on, our stance on important social issues and how you make a difference to vulnerable Australians' lives.