Unexpectedly homeless at 67: Carol's Story
When you think of someone who is homeless, Carol* may not be someone you would imagine but sadly, in Australia there are 19,378 people over 55 years old experiencing homelessness.
Women without sufficient savings, women experiencing chronic illnesses or who endure sudden life events such as the death of a loved one can be vulnerable to homelessness. People like Carol, who struggled to maintain a home after the death of her husband. 
Carol, 67, homeless and alone:
Carol* remembers the plans she shared with her late husband. They were supposed to retire together and plant a veggie patch filled with cherry tomatoes, carrots and their favourite flowers.
Sadly, her life took an unexpected turn when her beloved husband, Tom, passed away. Tom had taken the lead in looking after the couple's finances and bills, and after his death, Carol struggled to afford the mortgage on her own.
The death of her husband left Carol with no options; she was evicted from her home and became homeless.
Carol put her name down on the list for public housing, something she never imagined she would have to do. Without a place to stay she sought work as a hospital cleaner to make ends meet and managed to find a small room above a local pub.
With only a single bed, drawer and a coffee table, the small room was a huge contrast to the warm and loving home she once shared with her late husband.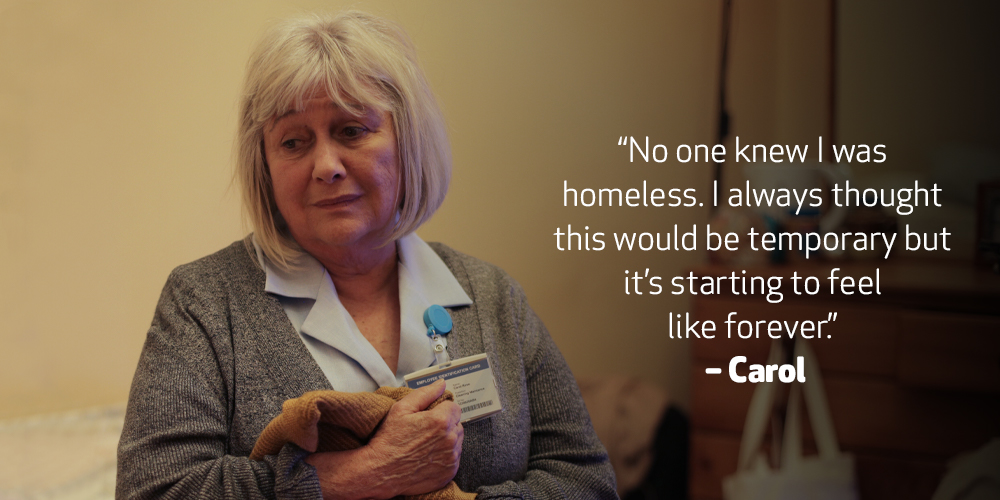 One week at the pub quickly turned into months and what was meant to be a short-term solution was starting to feel permanent. Each night as she tried to sleep through the loud sounds from the pub downstairs, she felt lost, completely alone and was losing hope.
Thankfully, through the generosity of people like yourself, our team connected with Carol, and provided her with the help she needed.
We assisted her with everyday tasks like managing overdue bills and guided Carol through the complex and overwhelming housing system to ensure she was placed on a priority list.
But most importantly, we listened to Carol and supported her through a difficult and lonely period of her life.
Many older women like Carol, are at risk of homelessness.
Why are older people homeless?
Experiencing homelessness later in life seems unimaginable but it's the sad reality for some older people in our community. In Australia, one in seven people experiencing homelessness is over 55 years1. Many older Australians can experience homelessness due to factors outside of their control.
Homelessness among our older population is triggered by:
Financial instability: Many older people like Carol can experience homelessness for the first time later in life triggered by unexpected life events that contribute to financial instability.
Elder abuse: As people age, they become vulnerable to elder abuse, a form of domestic and family violence—one of the leading causes of homelessness in Australia.
Disability or illness: Changes to an individual's physical and mental health later in life can affect their capacity to live independently, increasing their risk of housing insecurity and homelessness.
Read more about the causes of homelessness in older people.
With an ageing population, homelessness in older people continues to be a concerning issue. Mission Australia currently has three aged care facilities for older people experiencing or at risk of homelessness, but more support is required to address homelessness for older Australians.
Donate today to help older Australians facing homelessness.
Help end homelessness in Australia
With your donation, older Australians like Carol can access the urgent support they need to find a safe home and thrive.
Donate today
or
Partner with us
or
Leave a gift
1ABS(2021) Estimating Homelessness: Census 
Names have been changed to protect the identity of the people we help.

Related
news and stories
Read about what we've been working on, our stance on important social issues and how you make a difference to vulnerable Australians' lives.