Three different experiences of homelessness in Australia
It's hard to imagine that in Australia—one of the wealthiest countries in the world—homelessness is a daily struggle for over 122,000 vulnerable individuals that don't have a safe place to call home.1

Homelessness is a complex issue and at Mission Australia, we know first-hand that the experience of homelessness involves more than 'rooflessness' or the lack of access to shelter. In a relatively prosperous nation like Australia, the experience of homelessness is varied and can be triggered by underlying factors such as domestic and family violence, mental illness and systemic inequality.
Despite common perceptions of drunken men asking for spare change, the reality of homelessness is vastly different—In Australia, only 6% of people experiencing homelessness are sleeping rough on our streets.2 Homelessness is largely unseen as most vulnerable Australians endure covert forms of homelessness such as couch surfing, sleeping in cars, living in overcrowded dwellings or relying on temporary accommodation in refuges, motels or caravan parks.
To better understand the reality of homelessness in our communities, here are three experiences of homelessness:
Homelessness and domestic violence
Distressingly, the experience of homelessness is inextricably linked to incidents of domestic and family violence— a form of physical, sexual, emotional, social, verbal, spiritual and economic abuse at the hands of an intimate partner or family member.
Domestic and family violence remains one of the leading causes of homelessness in Australia and although instances of domestic and family violence are difficult to measure, trends in national research reveal a strong correlation between violence and homelessness.
In 2018-19 domestic and family violence was the main reason why 80,000 people asked for help from specialist homelessness services. Of those people, more than three out of four people were female.3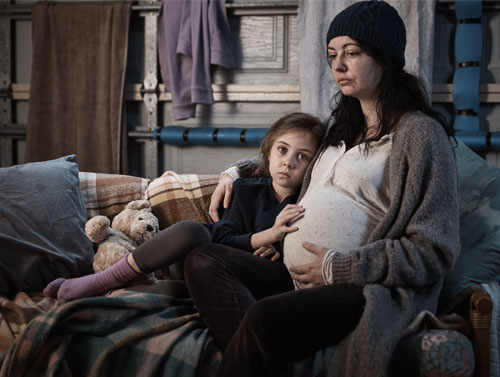 For Angie* and her daughter, domestic and family violence exposed them to the risk of homelessness.
After repeated episodes of domestic and family violence, Angie desperately wanted to find safety for her young daughter. Angie's creativity was also stifled by fear and as an artist, Angie needed a safe space to keep her artistic flair alive and continue earning an income.
When she heard about a women's refuge, run by Mission Australia, Angie packed her art supplies and fled with her daughter.
"We helped find a new property for Angie and secure a bond loan for her," remembers a case manager at the women's refuge. "She was housed within days of arriving at our office. She was overwhelmed with the help and assistance she received."
Without the support of the women's refuge, Angie and her daughter would have been sleeping on the streets.
For some women and their children, fleeing domestic and family violence means leaving behind their home. Without a safe option, staying at home with a violent partner can seem like the only option. Donate today to help provide necessary support for families at crisis point.
Donate today
Homelessness and mental illness
In Australia, mental illness is more common that we think, with almost half of the population aged between 16 and 85 years expected to encounter some form of mental illness in their lifetime.4 In 2018-19, 4.3 million people received mental health-related prescriptions yet the number of people seeking support for depression, anxiety and other mental health concerns continues to increase.5

Mental illness and the experience of being homelessness are often interrelated—in 2018-19, almost 30% of all people6 who received support from a specialist homelessness service were also facing a mental health issue.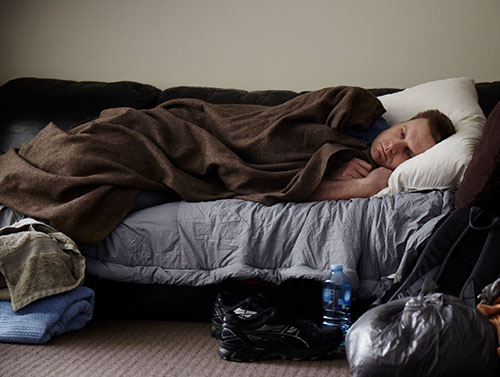 Our mental health and wellbeing have a significant impact on all areas of our life. In some cases, mental illnesses can affect an individual's self-confidence and ability to attain employment.
For two and a half decades, Richard* maintained a stable job at a government organisation but overnight, a redundancy began to unravel his sense of purpose and security. Losing his position had a significant impact on Richard's mental health and the 62-year-old began experiencing severe anxiety.
Without a support network, Richard lost everything he had.
In a matter of months, Richard was sleeping rough in a small laundry at the bottom of an apartment block. Richard had been sleeping in the laundry for six months when he met Kevin Kingsbeer, a Program Manager at a Mission Australia homelessness support service in NSW.
"From my experience working with people, a history of mental illness is an underlying issue for people experiencing homelessness," explains Kevin. "The people that seek help from our service don't have connections to community, so we become their community. It's building that relationship and trust that makes someone feel comfortable to talk to us."
Kevin's team swiftly connected Richard with accommodation, food and essential support. Richard's ongoing struggle with anxiety has made it difficult for him to maintain employment, but with the support of his team, Kevin is positive about Richard's future.
Find out more about our mental health recovery services.
Homelessness and ageing Australians
When people imagine retirement, homelessness is not typically in the picture. But for a portion of our ageing population, homelessness is a constant threat.
Older people are not immune to the experience of homelessness in Australia. In 2016, one in six people experiencing homeless were 55 years or older but most alarmingly, this rate was significantly higher than the previous Census7.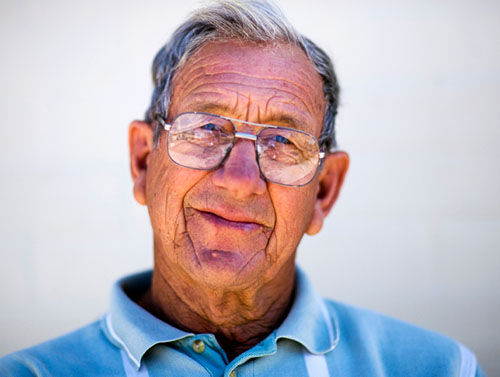 Structural factors such as the lack of affordable housing options or financial instability can impact everyone in the community, but older men and women are often more vulnerable to changes in lifestyle and health. Older Australians that don't own their own property or rely on social security payments and support from family members, are at risk of rental stress and changing housing needs.
Older people that experience a decline in their physical and mental health can also find themselves at risk of losing their home and livelihoods.
When 83-year-old Todd* retired from his job as an engineer at a commercial airline, he looked forward to a comfortable retirement. Todd lived with his elderly sister but after she passed away, Todd found it difficult to adjust. He was referred to an aged care facility, but it wasn't the retirement he had envisaged.
Todd considered turning to his two daughters for help but with their own families to care for, Todd didn't want to be a burden.
He decided to become a modern-day nomad, living in his car and driving across NSW to visit friends and see the countryside. It sounded like a great plan but as soon as Todd's car broke down, sleeping on the train became his only option of getting a good night's sleep.
When Todd's leg became badly infected, he sought help from a local Missionbeat van at Central station in Sydney.
The team treated the infected wound on his leg and offered Todd temporary accommodation while they advocated to secure urgent housing. After a few months, Todd stepped into a new unit of his own.
"Todd is so thankful to have a stable home that isn't mobile," says Stuart, a staff member from Missionbeat. "He can now live independently for as long as he wants."
Learn more about our stance on ageing and homelessness with our position statements.
The experience of homelessness in Australia is wide and varied. Unlike stereotypes that reinforce one singular expression of rough sleeping, homelessness can be hidden, triggered by a range of factors and can affect anyone in the community. Discover our housing and homelessness services in your community or donate today to help support Australians experiencing disadvantage.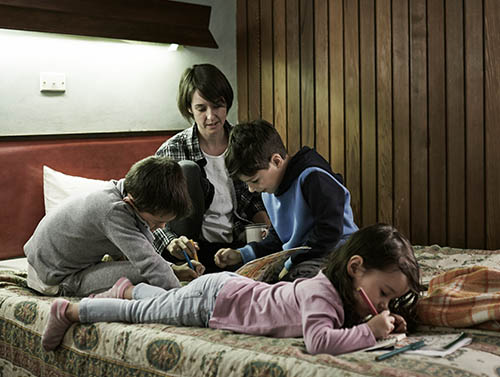 *Names and images changed to protect the privacy of the people we help
1,2 Australian Bureau of Statistics (2021) Estimating Homelessness: Census
3 Australian Institute of Health and Welfare (2019), Specialist Homelessness Services annual report 2018-19
4 https://www.health.gov.au/health-topics/mental-health. Accessed 18 June 2020.
5 Australian Institute of Health and Welfare (2019), Mental health services in Australia report 2018-19
6 Australian Institute of Health and Welfare (2019), Specialist Homelessness Services annual report 2018-19
7 Australian Bureau of Statistics (2016) Census of Population and Housing: Estimating Homelessness, 2016
Related
news and stories
Read about what we've been working on, our stance on important social issues and how you make a difference to vulnerable Australians' lives.