Disability Employment Services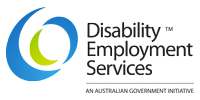 Looking for work?
If you are a job seeker with a disability, injury or health condition, Mission Australia can provide you with tailored services to help you find and keep a job.
Search for a local disability employment service
Mission Australia operates Disability Employment Services offices across NSW, NT, Qld, Vic and Tas. We treat all of our job seekers fairly and with respect, in line with the Disability Services Standards.
Mission Australia's Disability Employment Services staff will work with you to agree on an Employment Pathway Plan.
We will then help you deal with any issues that might be making it hard for you to look for work and will consider your previous work history, local opportunities, your skills and education.
Mission Australia will also help you to receive training, work experience or other services that will help you find and keep a job. This includes assistance with your resume, advice on how to look for work and even access to our computer facilities and interpreters.
We can also assist you with accessing a range of other support services, depending on your personal circumstances.
Once you find a job, we will continue to provide you with ongoing support for up to six months, to help you settle into the workplace. Mission Australia can assess the suitability of this work in regard to your condition and injury.
We can also help educate your employer or co-workers on your disability, and depending on your circumstances, may also be able to organise workplace modifications or the purchase of adaptive technology.
---
Looking for staff?
Australian and international research has consistently found that people with disability often make better employees because of higher attendance rates, lower turnover and good performance and safety records.
Research indicates there is very little difference in productivity between people with disability and those without. The benefits of employing job seekers with disabilities include:
Higher retention rates, so less to spend on training and recruitment
Fewer accidents at work, meaning lower workers compensation costs
Increased awareness of workplace practices and conditions
It shows your business is socially responsible
Potential growth of customer and staff loyalty.
Hiring people with disabilities can also help employers to increase their talent pool, promote a diverse workforce and may reduce skills shortages.
Mission Australia runs a free service to help businesses hire people with disabilities. We offer ongoing assistance and training to help employees settle into their roles.
Mission Australia can also provide employers with access to information such as available wage subsidies, government incentives and additional financial assistance to cover costs, such as modifying the workplace or paying for assistive technologies or interpreting services.
Tailored and ongoing support
Mission Australia will work with employers for at least six months and, if needed, provide flexible support for longer periods to help candidates transition into the workplace.
Need employment, skills or training support?
Independence is something we all strive for, but life rarely turns out as planned. Don't be afraid to reach out for help.
Search for a service
    or    
Ask us a question
For specific employment information, follow the below links:
Contact National Disability Management Services
Contact our National Disability Management Services assistance line on 1300 883 067, or find a service close to you on our service directory.
Search for a local disability employment service
Listen to the Mission Australia privacy consent form in the player below:
Latest
news, media & blog

articles

Read about what we've been working on, our stance on important social issues and how you make a difference to vulnerable Australians' lives.