Homelessness & social housing
Access to safe and secure housing is an integral part of independence and connection within a community. At Mission Australia, we believe every person across the country should have access to safe and secure housing. In Australia however, the shortage of affordable housing and high rental costs means disadvantaged people are increasingly vulnerable to homelessness.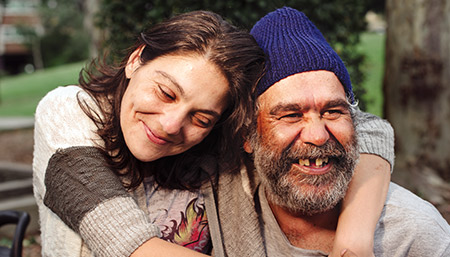 Homelessness in Australia
Every night more than 116,000 people in Australia are homeless1 as a result of many complex factors including unemployment, mental health issues, substance misuse or the loss of a job or loved one. Homelessness is a problem that goes beyond not having access to safe shelter as it can wreak havoc on a person's health, keep them out of work and leave them socially isolated.
Across the nation, the extent of the problem is hidden as most people experiencing homelessness aren't sleeping rough on the streets. Couch surfing, living in overcrowded and inadequate dwellings, sleeping in the car or relying on short-term accommodation can all be considered forms of homelessness. Learn more about homelessness.
Mission Australia Housing
Mission Australia Housing is a national Tier 1 Community Housing Provider of social and affordable housing. As a respected and innovative provider of social and affordable homes, Mission Australia Housing works to deliver housing solutions in vibrant communities. In a tailored approach, Mission Australia Housing works with individuals to support residents in moving towards independence.
Mission Australia Housing manages more than 3,000 social and affordable homes across NSW, Tasmania and Queensland. Discover more about Mission Australia Housing.
What is social and affordable housing?
In Australia, social and affordable housing solutions are designed to equip vulnerable people with a safe place to call home.
Social housing provides people who are on low incomes (normally receiving Centrelink benefits) and on the waiting list for public housing with access to secure housing and accommodation.
Social housing rental payments are typically priced at 25% of a person's income, plus their full Commonwealth Rent Assistance payment entitlement.
Access to social housing depends on meeting government eligibility requirements—find out more about Mission Australia Housing or find a community service near you.
Affordable housing is an alternative form of accommodation for people struggling to secure housing in the private rental market. Unlike social housing—that is reserved for the most vulnerable in society—affordable housing options are open to a wider range of low to moderate income levels. Affordable housing is typically operated by a nonprofit organisation or charity and is managed as a private rental property with rent charged at up to a maximum of 80% of market rate. Eligibility for affordable housing depends on household income levels, with limits set by each state.
Affordable Housing is a short to medium-term solution, designed to support individuals or families until they can enter the private rental market. Affordable homes are priced so that people can meet other basic needs and living costs. People may access affordable housing solutions for a range of reasons such as changes in life circumstances like the death of a family member, relationship breakdown or job loss. In some cases, an individual's income is not high enough to afford rent in an area close to work and this can apply to many different industries.
Mission Australia Housing provides affordable housing solutions for individuals or families on low to moderate incomes finding it difficult to secure housing in the private rental market.
Collaborating for change
Mission Australia works with other agencies to understand, address and prevent homelessness. One example is the End Street Sleeping Collaboration, which seeks to end rough sleeping in New South Wales by 2030, and provides an interactive tool with real time, de-identified insights about rough sleepers.
Stand with people at risk of homelessness
For people at risk of homelessness or experiencing homelessness, there's no quick fix to the challenges they face. You can stand with people in need until they can stand for themselves by donating to Mission Australia. Your donation ensures our programs and services can continue to provide long-term support as people journey towards independence. You can also view our reports and submissions on housing and homelessness to learn how we can improve the lives of disadvantaged people by effecting changes in public policies.
Donate today to help a vulnerable Australian find a safe place to call home.
Donate now
Need homelessness or housing support?
Mission Australia Housing provides social and affordable housing options to support an individual's journey towards independence. Discover more about Mission Australia Housing or find a community service near you.
For further information on housing programs operated by Mission Australia Housing, please contact us at the details below:
1800 269 672
This email address is being protected from spambots. You need JavaScript enabled to view it.
Want to learn more?
For more information, download our research on homelessness in Australia.
1ABS (2018) Census of population and housing: Estimating homelessness, 2016
Latest
news, media & blog

articles

Read about what we've been working on, our stance on important social issues and how you make a difference to vulnerable Australians' lives.