Homelessness & social housing
Mission Australia believes every person in Australia should have access to safe and secure housing. It's an integral part of maintaining good health and feeling part of a community. A shortage of affordable housing and high rents means people on low incomes are increasingly vulnerable to homelessness. Single parent families, in particular, spend the most on housing as a percentage of their weekly gross income.
Every night more than 116,000 people in Australia are homeless1. Homelessness can affect men, women and children from a wide range of backgrounds living in our cities, suburbs and country towns. The extent of the problem is hidden by the fact that most homeless people don't sleep rough on the streets. They stay with relatives and friends until they wear out their welcome, and sleep in hotels, short-term and crisis accommodation, caravan parks and even cars.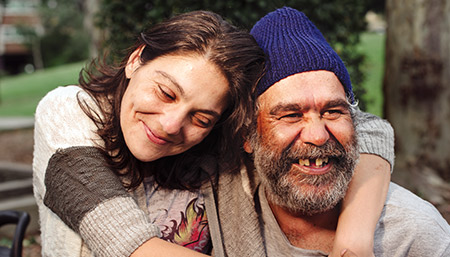 People become homeless for many reasons, including unemployment, mental health issues, financial troubles, problems with drugs, alcohol or gambling or the loss of a job or loved one. Being homeless can wreak havoc on a person's health and keep them out of work and socially isolated. There is no consistent definition for homelessness, but Mission Australia sees it as being a problem that goes much further than just not having access to safe shelter.
Mission Australia Housing
Mission Australia Housing is a respected and innovative, national Tier 1 Community Housing Provider of social and affordable housing in Australia that leverages the strength and support of Mission Australia.
Need homelessness or housing support?
Independence is something we all strive for, but life rarely turns out as planned. Don't be afraid to reach out for help.
Search for a service
or
Contact a referral service
Ask us a question
For further information on housing programs operated by Mission Australia Housing, please contact us at the details below:
1800 269 672
This email address is being protected from spambots. You need JavaScript enabled to view it.
Want to learn more?
For more information, download our research on homelessness in Australia.
1ABS (2018) Census of population and housing: Estimating homelessness, 2016
Latest
news, media & blog

articles

Read about what we've been working on, our stance on important social issues and how you make a difference to vulnerable Australians' lives.